Created in 2012, Un Jour de Plus à Paris has been supporting you for 10 years in your Parisian discoveries with a website and guided tours. To celebrate this anniversary, a new adventure completes this offer by integrating a unique heritage in the world: the booksellers of the banks of the Seine. Located at 8, quai de l'Hôtel de Ville, a few steps from Pont Marie, my open-air bookstore welcomes you all year round!
A vast recruitment campaign for new booksellers was launched by the Paris City Hall at the end of 2021. The defense of heritage and its adaptation to modern tourism and cultural practices have always been the heart, and the reason to be, of the activity of Un Jour de Plus à Paris. Participating in the safeguarding of this Parisian jewel, hard hit by two years of international health crisis, and trying to return to the sources of this old profession by offering old or contemporary books, literary curiosities and rarities for bibliophiles was my main source of motivation.
After 10 years of promoting Parisian tourism, this candidacy was even obvious. In addition to the guided tours and the digital offer, there is now a physical location in the heart of the capital, in a unique heritage in the world.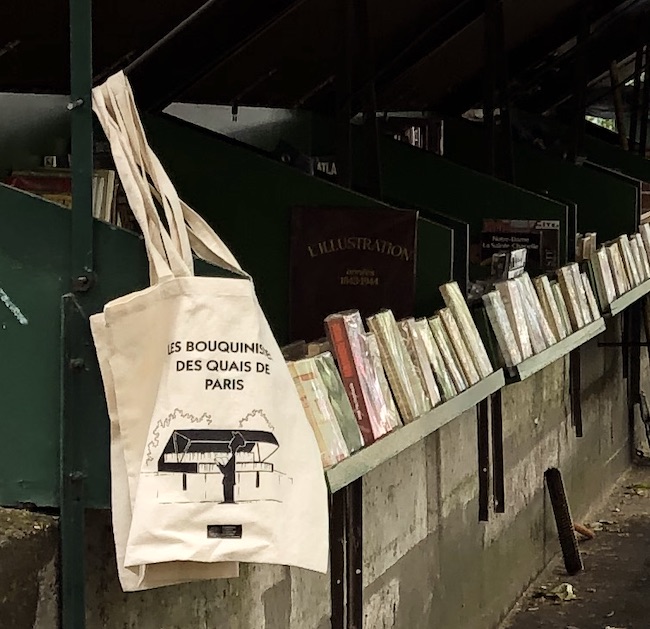 You will find there – of course! – a vast choice of books on Paris. History of the city or the districts, literature related to Paris, but also beautiful books on Parisian museums or architecture, hundreds of references are already available. History also has a prominent place, with many themes covered, from the Middle Ages to modern times. Finally, what would a bookseller be without literature! A third box (that's what they're called 😉 ) is devoted to literature, with a selection of second-hand paperbacks, pretty editions of great classics and many curiosities. In addition to French literature, I have decided to specialize my offer in Russian and South American literature, which for me are among the finest in the world.
The boxes are located at 8, quai de la Hôtel de Ville, on the right bank, opposite the Pont Marie metro (line 7). Present as soon as the weather permits, and apart from my guided tours, I welcome you throughout the year. If you want to be sure of my presence, you can follow me on Instagram to contact me, or send me a short email (see useful info)!
And then if you can't find what you're looking for there, there are more than 3 kilometers of booksellers in Paris. I will happily direct you to the different specialties (excluding, of course, the Eiffel Tower sellers 🙂 ).
See you soon !