Notre-Dame de Paris cathedral is a beautiful monument not to be missed during a visit in Paris.  Yet, more than one is put off by the lengthy queue at the entrance or by the crowded inside the cathedral (and throughout the year). Un Jour de Plus à Paris offers a perfect and unusual alternative: the visit of the Cathedral as soon as its opening at 8 am.
At this early hour, the square is empty, and the Cathedral is fully offered to visitors. The timing is perfect for a real nice picture. If you can, come to Notre Dame even ten minutes before it opens. Around 8 am, you'll have the opportunity of hearing the guardian releasing the lock of the big front doors. During its opening, you will be able to imagine in your mind one of the most beautiful medieval monuments in the world.  Then, you will visit the building with a few curious people who came like you to discover Notre Dame de Paris quietly, but also dozens of worshipers who come to attend Mass at 8am.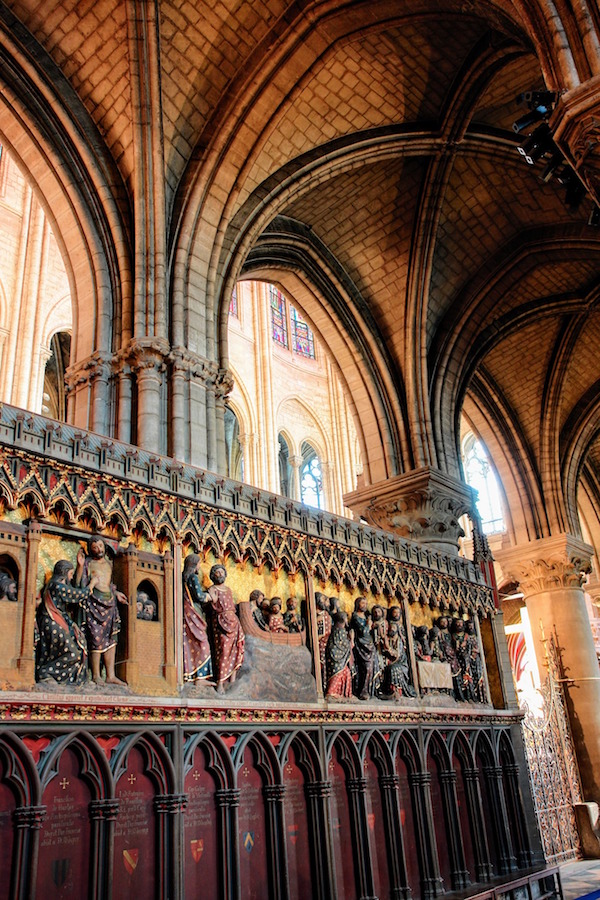 The first Mass of the day does not take place in the great altar but in the choir of the Church, isolated space beautifully decorated with scenes taken from the New Testament (including the wedding at Cana, the Last Supper, the Visitation, and Baptism of Jesus …) and historically reserved for the clergy. So it is in this general atmosphere of meditation that you can stroll around the church, accompanied throughout your visit by liturgical words.
Feel free also to participate in this Mass of the morning if you want, it would be a pity to miss this uncommon experience if it attracts you. If you simply prefer watching the ceremony, just sit down on a chair in front of the altar. The Mass and the beautiful architecture of the Church are extraordinary scenes which you can enjoy alone.
After 8:30, the first tourist groups come, and it is time for you to go to new discoveries of Paris. When leaving the catherdral, your sight of the square will be different from the first time you saw it.