THE WALK
During this walk, you will see several panoramas of the Eiffel Tower. You will also discover the "art-nouveau" architecture of buildings of the 16th district and an amazing street : rue Berton. The walk will then go on Seine's embankments towards the Eiffel Tower and the Champ de Mars.
THE ITINERARY
Departure of the walk at the metro entrance La muette (Line 9). You are in the middle of the 16th distric, one of the most bourgeois of Paris.
–
Take rue Boulainvilliers and turn left at the 3rd intersection onto rue des Vignes. You will notice while walking the niceties of buildings architecture and its sumptuousness.
–
Reaching rue Raynouard, turn left and go straight ahead. You can see after a while the Eiffel Tower. This unknown view of the symbol of Paris offers a great panorama.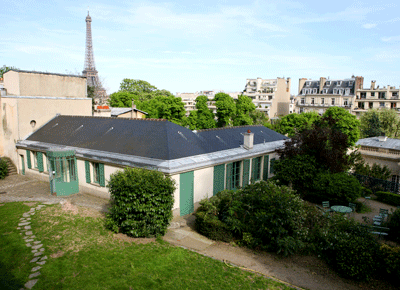 Here is the Maison de Balzac (Balzac's Home – Museum). Here had been living this great French novelist for 7 years.
–
Retrace your's steps and go down the first stairs you meet on your left. Down, turn left and enjoy the amazing street that seems to have crossed centuries without any change. Before being part of Paris (1860) rue Berton was the intersection of Auteuil and Passy Villages.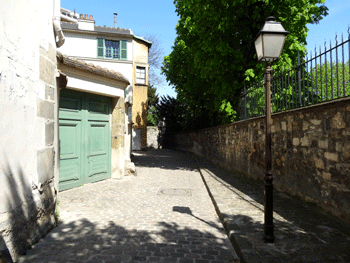 At the end of rue Berton (You are back in the 21st century…), turn right rue d'Ankara et go down as far as the Seine's embankments.
–
 At the level of Avenue du Président Kennedy, at the edge of the Seine (miind the cars!), you will discover one of the most beautiful view of the Eiffel Tower. Come the closest to the Seine you can to take great pictures.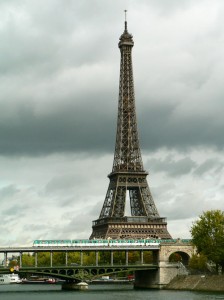 The walk goes on Avenue du Président Kennedy (towards the Eiffel Tower).
–
Turn right onto Pont de Bir Hakeim (Bir Hakeim Bridge).
–
Above you is a section of the overhead metro. Film buffs shall recognize this bridge where a lot of movies have been produced (Inception for exemple).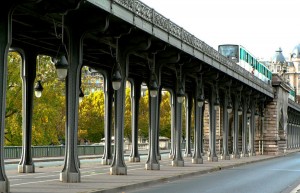 Cross the bridge and go down on your left to the embankments. Continue ahead (still toward the Eiffel Tower). Here is a nice walk along barges.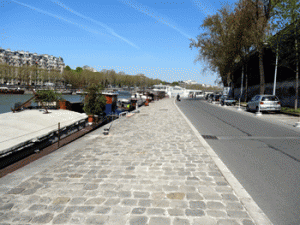 At the level of the Pont d'Iéna, when you are close to the Eiffel Tower, go up the stairs and head for the monument.
–
To end the walk, go ahead as far as the Champ de Mars, a huge public garden. Enjoy the nice atmosphere of the place and walk towards l'Ecole Militaire (Military School), at the end of the Champ de Mars.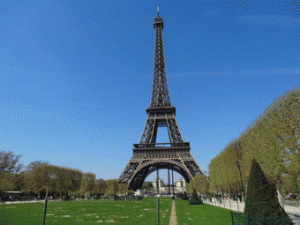 <
  End of the walk Follow your discovery of the 16th arrondissement with our walk in Auteuil Village.