THE WALK
A 2 hours walk in Montmartre to discover places where have lived international and french artists. You will also see unusual places (like Saint-Vincent Cemetery, Villa Léandre, Halle Saint-Pierre) that have kept their authenticity.
THE ITINERARY
The walk starts at Metro stop Anvers (Line 2). Take rue de Steinkerque. At the end of it, you are below Montmartre hill and see the Sacré-cœur Basilica. Turn right (Place Saint-Pierre) then take rue Ronsard on your left.
You are bordering Basilicas's garden and entering Monmartre. At your right is the Halle Saint-Pierre, a centre of contemporary art. Inside is also a bookshop and a pleasant tearoom. Go straight ahead and take the first stairs you see (rue Paul Albert). Upstairs, continue rue Paul Albert. The street is still climbing, but the atmosphere will soothe your effort…
Take rue du Chevalier de la Barre. Go upstairs (again…) : you are behind the Basilica. Go on straight ahead rue du Chevalier de la Barre (which continues onto a cobbled street) as far as rue du Mont-Cenis. Turn right.
The walk goes on rue Cortot. Before that, take a look at the panorama from rue du Mont-Cenis, from where you can see the North of Paris and the suburbs. Rue Cortot, you will come before Montmartre Museum and several beautiful houses. At the end of the street, turn right onto rue des Saules.
At the intersection of rue Saint-Vincent is the Clos Montmartre, a vineyard of 2000 vines. You can as well see a Cabaret, le Lapin Agile. Picasso, Appollinaire or Max Jacob met there almost every day. 
Turn left rue Saint-Vincent and go on about 200 metres as far as rue Caulaincourt (via place Constantin Pecqueur). On your right is the entrance of a cemetery. Enter and visit this amazing place. Saint-Vincent Cemetery is a small unusual cemetery most people are unawared of. Marcel Aymé or Marcel Carmé, amongst other people, are burried there… 
After visiting the cemetery, retrace your's steps as far as the vineyard previously seen.
Go up rue des Saules and turn right rue de l'Abreuvoir. At the n° 12 of this street lived Camille Pissaro, impressionnist painter. At the end of the street is the Place Dalida, a famous singer. You also see a small and pretty path : l'Allée des Brouillards. Renoir lived at the N°6.
From rue de l'Abreuvoir, go on rue Girardon.
Arrived Place Marcel Aymé, have a break. On your right is Avenue Junot, the most chic (and expensive!) street of Montmartre. On your left, you can see a reproduction of the "Passe-muraille" (The man who could walk through walls – book written by marcel aymé) hero. In front of you, 4 rue Girardon, lived Céline.
Take avenue Junot and look at the amazing architecture of the buildings. After 150 meters, on your left, take Villa Léandre.  This dead-end street do not need any comment…
Go back Place Marcel Aymé.
Go on straight ahead. Rue Lepic corner is Le Moulin de la galette, famous restaurant symbolized by one of the last two mills still visible in Montmartre. Take rue Lepic on your left and continue straight ahead. Then, take rue Norvins.
Go ahead as far as Place du tertre. Today, this famous Montmartre square is just a very turistic place. To feel the specific atmosphere of it, go there very early on the morning.
Go out Place du Tertre, then turn right rue Saint-Eleuthère. You are back to the Basilica and are about to enjoy the amazing view of Paris from the square. To go there, turn left rue Azaias and continue straight ahead.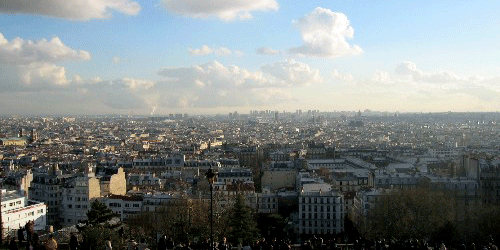 End of the walk