5 places to make you discover an unusual Montmartre. 
WINDOWS OF THE RUE DURANTIN
Pace up and down  rue Durantin and discover the "Monmartoises" ("from Montmartre") shops4 windows (from the number 17 of the street to the 35). The characteristic of this street is that old signs have been kept to preserve the authenticity of the place. Discover for example an accountant office (n°17) or a baby-sitting premises (n° 26) inside ancient "Boulangeries".
While walking, look at the building fronts. Certain date from the 19th century and are now protected.
THE PASSAGE OF 45 RUE LEPIC
You could come before those 2 grey doors every day and never see what is there behind. Nevertheless, behind it is one of the most unusual place of Montmartre : a "passage" hidden from the world that seems to be abandoned. Nowadays, only few workshops, ran by craftsmen, continue to provide a living for this out of the ordinary parisian gallery.
In order to keep it opened to visitors, please keep the place quiet and respect the people working there. Closed at 8 p.m.
GRILLE RUE DURANTIN
We are back rue Durantin. At the number 42, unusual railings are protecting the windows. Come near to it… Yes, it's a bike!
VILLA LEANDRE
Villa Léandre, at the bend of avenue Junot (the most beautiful street of Montmatre) is a real wonder. Far from the Sacré-Coeur hubbub, this small dead-end street calls us to mind that Montmartre was a quiet countryside before being annexed to Paris in 1860. One particularity of the Villa Léandre is the english-style of the architecture of the houses. On the right side, at the number 10, an house pick it out with a funny detail : a plaque tagged "Downing Street Sw1 – City of Westminster".
10 Villa Léandre, next French prime minister residency?
STUDIO 28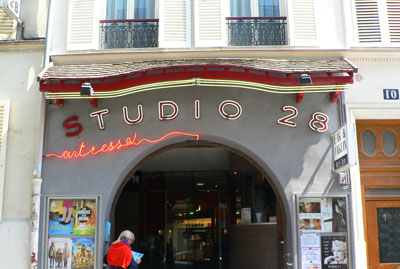 Studio 28 (it was created in 1928) is above all an old neighborhood cinema. Besides the retro decoration of the main hall, you will find a pleasant garden/café or a candelabrum made by Jean Cocteau, a French artist. Before your movie, do not order Pop-corn. Here, it's home-made Quiche…