Visiting the Basilica means above all going to Montmartre and getting lost in its steep alleyways. It means also having the opportunity to enjoy one of the most beautiful views of Paris, from the square in front of the Basilica. Just sit down on the steps and open your eyes: Paris' rooftops are all yours now!
And the Basilica? The church (consecrated Basilica since it is a place of pilgrimage) has been consecrated in 1919. It was built after the insurrection of Paris for the establishment of a new catholic "moral order", and is therefore quite recent compared to a monument like Notre-Dame de Paris (12th – 13th century).
Concerning the architecture, you will find a roman-byzantine style outside and inside, in white stone. Inside, you will see one of France's most important mosaics on the apse. Besides the different sculptures and decorations adorning the monument, the altar and the organ are most noteworthy.
Outside, you can take a walk around the Basilica. You will notice that it is cross-shaped, and that the central dome is surrounded by four cupolas. Besides, you can visit the central dome (5 €) from which you have an exceptional panoramic view, the second highest one in Paris after the Eiffel Tower. We also advise you to visit the crypt of the Basilica, the entry is free during the weekend.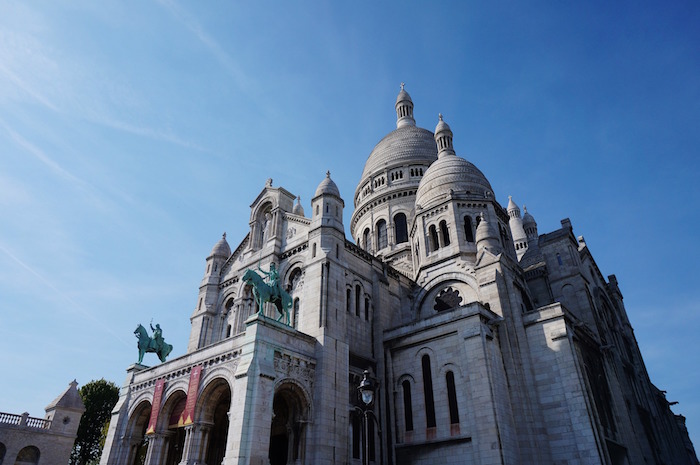 You should finally know that getting to the Sacré-Cœur isn't easy. Wherever you come from, you will have to climb a lot of stairs and quite steep alleyways. A cable-car, leaving from the subway station Abbesses, can however help you to avoid these efforts. But maybe the most faithful worshipers will consider this ascent as a kind of pilgrimage…