At the top of Montagne Sainte-Geneviève, a few steps from the Pantheon, the Saint-Étienne-du-Mont church houses an extraordinary heritage: its rood screen, the last visible in Paris, and the tomb of Saint Genevieve, patron saint of Paris.
In 510, Clovis built a basilica dedicated to the apostles Peter and Paul on the site of the present rue Clovis. His wife and he were buried there, as well as Saint Genevieve. Many religious settled around the church, which became an important abbey in the 12th century.
In order to meet the growing population, a new church was built at the end of the 15th century, adjacent to the abbey but independent of it. It is the current Saint-Étienne-du-Mont church. The work began in 1492 and lasted until 1626. That is why you will notice, both inside and outside, an evolution of styles, going from the Gothic to the Renaissance.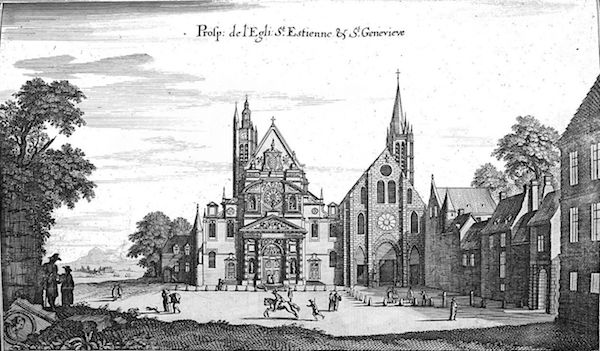 Restored under the Second Empire by Baltard, all the statues and sculptures of the facade date from 1862. 
Inside, the rood screen (tribune that separates the nave from the choir), completed in 1545, is the last visible in Paris.
Since 1803, the church contains the shrine of Sainte-Genevieve. The original one, which was in the old church of Sainte-Geneviève (now the Pantheon), was covered with gold, silver, diamonds and precious stones. In 1793, the decoration were melted by the revolutionists, and the remains of the saint burnt on the Place de Greve…
The sarcophagus where she had rested until the 9th century and various relics are now enclosed in the reliquary that you can see in a lateral chapel.