If you want to combine history with resting in a charming natural spot, then you should definitively go to the Arènes de Lutèce. They are indeed, together with the thermes de Cluny, the only remains from the Roman era you can still see in Paris (they were built during the 1st century a.d.).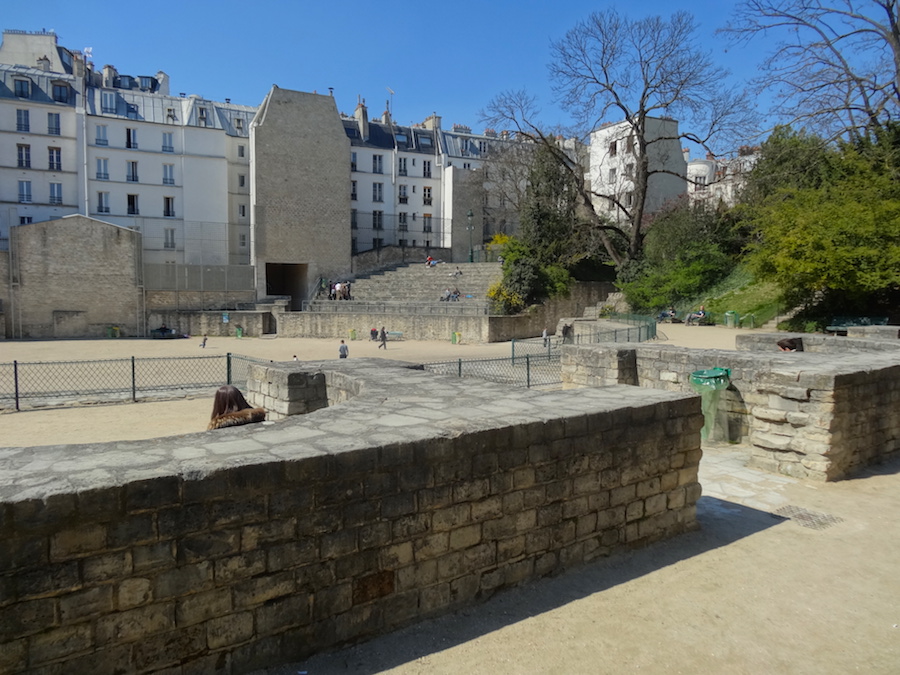 The bleachers of the amphitheatre are well preserved and accessible to everyone while the kids can play on the former stage of the theatre below, now used as a playground.  Here you can enjoy a nice setting for having a bite to eat or just chitchatting. You should however note that the stone ground could hurt your butt after a while…
If you come into the gardens to take a little nap, be careful, it is hard to get a place! There is only few lawn, but it is still the ideal place for an outdoor rest. Concerning the picnic, the arenas can be a very good alternative to the big parks in Paris, which are very popular for this gastronomic rendezvous. The charming, historical setting full of flowers will perfectly fit with your aperitif.
Please note finally that you can come to the Arènes de Lutèce with children of all ages. Besides the big stage, which offers a large space for entertainment, the gardens are equipped with a playground for younger children, and the parents will find a little lawn right next to it. Monsieur (or madam!) will furthermore find a bowling pitch next to the playground to enjoy a little game of petanque!