In the heart of the Luxembourg Gardens , the Medici Fountain is one of the most beautiful fountains in Paris , and one of the most romantic places in the capital . A monument which, however, was not destined to become the current fountain.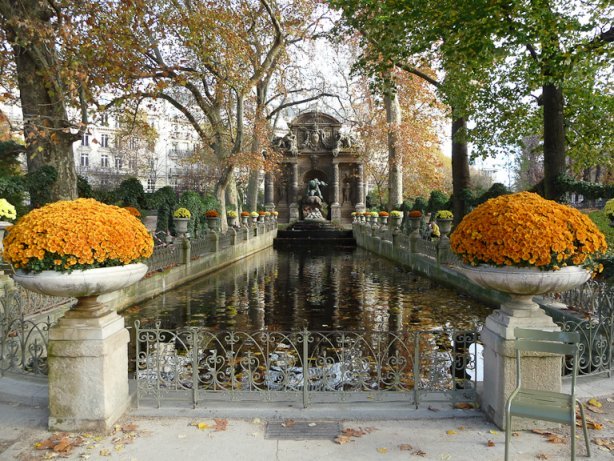 Located in the shade of trees and almost hidden on a side of the garden, this beautiful fountain of Luxembourg gardens remains relatively unknown, even by Parisian themselves.
FROM "MEDICI'S CAVE" TO "MEDICI'S FOUNTAIN"
After the assassination of King Henry IV (1610), Marie de Medici no longer supports the Louvre; nor its court plots, nor pestilential odors coming from the Seine. She decided so to build a palace on the outskirts of the capital, at the foot of the Montagne Sainte- Geneviève.
For decorating gardens, Queen imagined many rivers, caves and fountains reminding her native Italy. One of those caves was adorned with a wide façade richly decorated. This is this only witness of Queen's decorations whe can see on the Medici fountain today.
Restored in the 18th and 19th centuries, the Fountain will know many transformations, and will also be moved stone by stone in 1860 to save it from Hausmann works. It is then the architect Alphonse de Gisors which will provide the fountain the great basin lined with vases.
THE DESIGNS OF LA FONTAINE
He also gave new decoration to the foutain.
The central niche represents Acis and Galatea lying under a rock on top of which Polyphemus is preparing to launch a stone to kill the rival.
The sides niches are decorated with two statues : fauna and huntress.
Alphonse de Gisors also realized a decoration for the back front of the fountain. You can see a bas-relief recovered from a fountain located in the former Rue du Regard (destroyed during Haussmann work). It represents Leda and Jupiter transformed into a swan
A simple and romantic place around which it is pleasant to stroll, relax, read, or just dream… Just not miss it during your walk in Luxembourg gardens and around !