There is in Paris many other public gardens than the Buttes-Chaumont, les Tuileries or le Luxembourg. Find out below a selection of those unknown and unusual green areas.
LES ARÈNES DE LUTECE : the historic one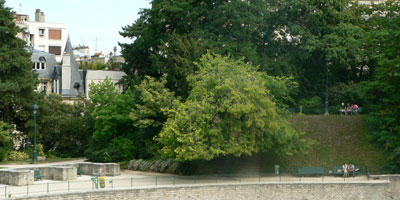 Only Gallo-Roman remain freely accessible in Paris, the Arènes de Lutèce are ideal for a picnic with friends or simply to have a drink. Children will also enjoy this place thanks to the former arena converted in a wide playground.
___________________
LA CITE INTERNATIONALE UNIVERSITAIRE : the most unusual

La Cité Internationale Universitaire is at the same time a huge Parisian park, a student campus, and a nice place to stroll around. An unusual garden you will take delight in.
___________________
LES JARDINS DE L'OBSERVATOIRE : the most unknown
The lack of fame of this public garden is probably due to its geographical situation, only few steps from the Luxembourg Gardens. It yet offers large lawns and a nice scenery thanks to the beautiful statues lining the garden, the most popular one being the "Observatory Fountain", a collective work of many French sculptors of the 19th century.
___________________
JARDIN FRANCS-BOURGEOIS-ROSIERS : the most hidden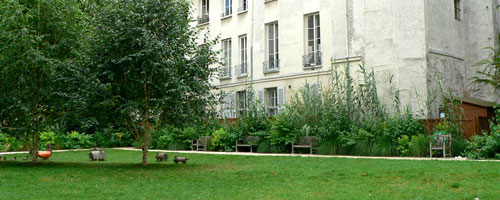 In the Marais district, this public garden can't be seen from the street. To reach it, you must enter and cross the hall of the Hôtel de Coulanges, a 17th century mansion. Inside is a peaceful and quiet place very hard to find everywhere else in Paris…
___________________
LE PARC GEORGES BRASSENS : for readers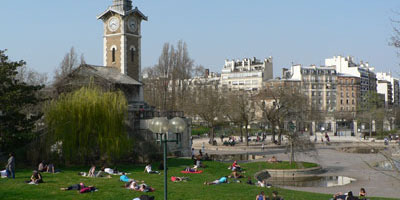 This beautiful garden of the 15th district is one of the most pleasant for reading in Paris. Every saturday, beneath the halls rue Brancion, is a market for ancient and second-hand books. 
___________________
LE PARC MONTSOURIS : the most misunderstood

Why so much Parisian people have never been to Montsouris Park and sometimes do not even know it? This park, one of the biggest in Paris, is yet one of the nicest green area of the city, and ideal for every outdoor activities.
___________________
JARDIN CATHERINE LABOURE : the quietest

Hidden behind big walls of the 7th district, Catherine Laboure public garden (a former kitchen garden) is a quiet and full of flowers garden. A perfect alternativ for people who don not like crowded huge parks…
___________________
LE PARC ANDRE CITROËN : the most modern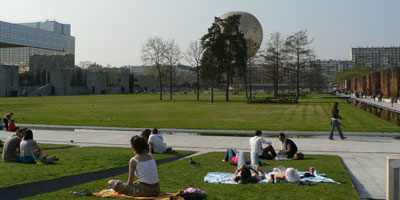 You can be sure that every time you go to this park you can find a piece of lawn to sit on! You will also find there a hot-air balloon that goes 150m up in the air, greenhouses, and a fountain where children like to play when the weather is very hot.