On the Place du Louvre, facing the sumptuous Colonnade de Perrault, rise side by side the Church of Saint-Germain-l'Auxerrois and the 1st arrondissement Town Hall . Two architectures that look alike and blend together. However, six centuries of history separate them.
Church of Saint-Germain-l'Auxerrois
The foundations of the Church of Saint-Germain-l'Auxerrois date back to the Merovingian period, but there is no remains of this period. The building that can be seen today is the result of successive enlargements beginning from the 13th century.
When the Valois make the Louvre the residence of the kings of France, the church becomes the official parish of the royal family. But Saint-Germain-l'Auxerrois is above all known in the history of France for its bells that, on the night of 23 August 1572, gave the St. Bartholomew's Day Massacre signal. An event that will save it from destruction centuries later…
The creation of the 1st arrondissement town hall
During the revolution, the church of Saint-Germain-l'Auxerrois had been sacked, then turned into saltpeter factory. Gave back to worship in 1802, it had been ransacked again in 1831 after a Republican riot.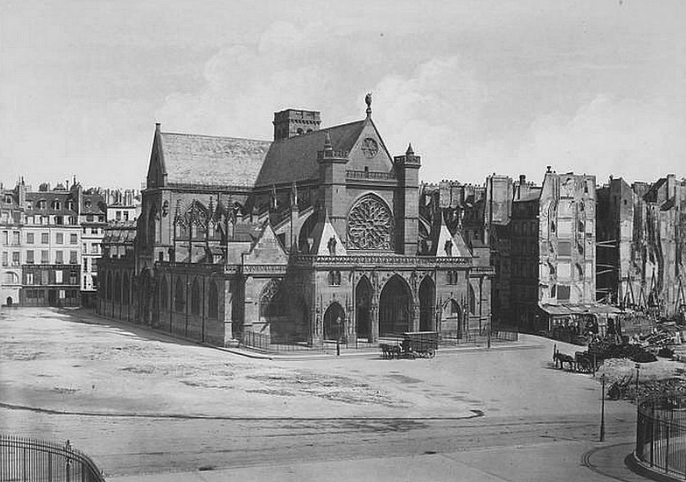 Despite many renovations, the building was threatened with destruction during the Haussmann works. Indeed, ministers wanted  to make a great route from the Colonnade of the Louvre to the Place de la Nation. But Haussmann was a Protestant, and knew the legend of church's bells. Fearing that the population see a revenge against St. Bartholomew, he refuses to destroy the monument.
On the contrary, he decided to build next to the church a building with an identical facade : the 1st arrondissement town hall, built between 1858 and 1863. Between them, a 38 meters high belfry is raised, giving the illusion to be the axis of symmetry of the two buildings. Two "twins" that are six centuries apart!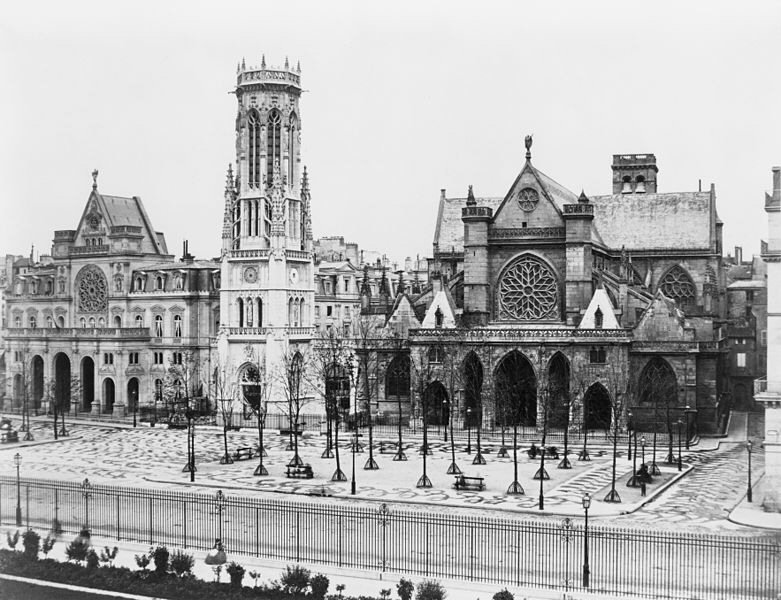 For those who would still ask the question, the church is to the right of the belfry, the town hall to its left!