Pavillon de Flore at the Louvre, Fountain Observatory, portraits of the imperial family … Jean-Baptiste Carpeaux was one of the most significant sculptors of the second half of the 19th century. A complete artist who despite the predominance of the Academic art of the Second Empire impose his own artistic expression, between exaltation of life, naturalism and baroque style, and whose genius is expressed through one of the most scandalous works history of sculpture in the 19th century: the Dance.
In 1863, Charles Garnier, the architect of the new Paris Opera, asked four artists to produce four groups sculpted to decorate the building facade. To address the theme of the dance, he calls his friend Jean-Baptiste Carpeaux, then aged 36 years and who joined the court of Napoleon III.
The artist sketches and models multiply for 3 years before designing this round of women who twirls around the genius of dance, where orchestra music with a tambourine. A masterpiece expressed by the sensation of movement bacchantes, both natural and exuberant. But this will not work at all public taste, and raise controversy, outrage, and vandalism!
In 1869, La Danse is inaugurated on the facade of the monument, presented ongoing work at the World Expo 1867. The public was shocked. How could represent a public monument naked women and so real being fun?
Public opinion demanded the withdrawal of the work, and Charles Garnier proposed move in the foyer of the ballet (room located at the back of the stage). But the Opera ballet was opposed by signing a petition. Finally, on the night of Aug. 26 to 27, 1869, a bottle of ink was thrown against the sculpture group.
An indignation expressed particularly acerbic manner by Emile Zola, who saw in this work the bad habits of the imperial court and ruling circles:
"The Mr. Carpeaux group, the Empire is the violent satire of contemporary dance, this furious dance of millions of women who sell and sold men and pretentious facade This beast of the new Opera. in the middle of this bastard architecture, this Napoleon III style, shamelessly vulgar erupts true symbol of the reign. "
Finally, it is the war of 1870 and the death of the artist in 1875 that will end the controversy. The original will be transferred to the Louvre in 1864 to protect it from pollution and will land at the Orsay Museum in 1986, where it remains still visible today. On the facade of the Opera is a copy made by sculptor Jean Judge, sponsored by Paul Belmondo, that the public can admire.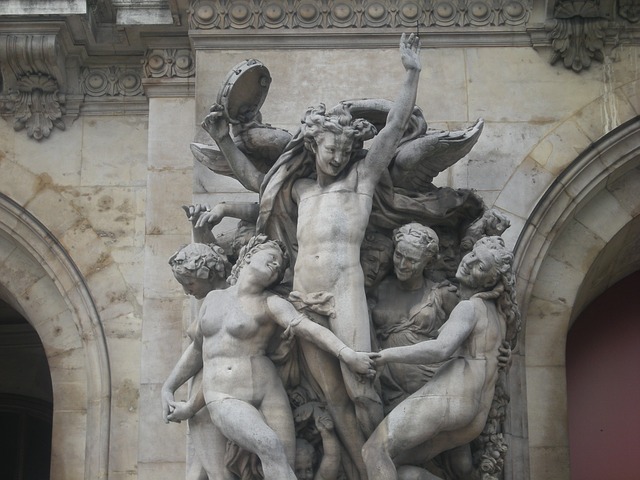 A public that now peacefully sitting on the steps of the monument, are a far cry from the shock in the 19th century …