It is in 1968 that André Malraux, French writer and politician, gave birth to the idea of "cultural stations". Then, little by little, Paris metro was not just seen as a simple crossing point, but as a "living place" that could also telling stories.
Arts et Métiers Station (line 11 platform)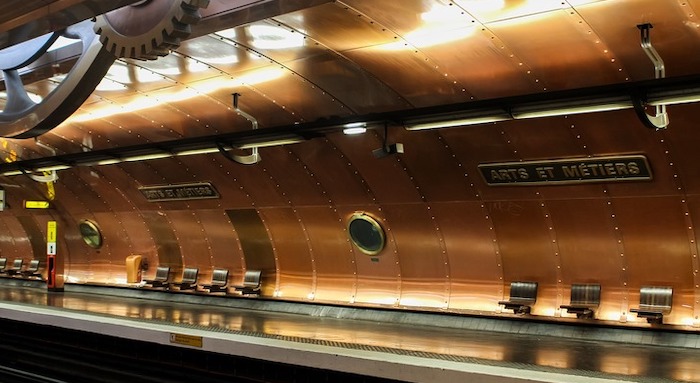 The Arts et Métiers Station got its decoration from the Arts et Métiers (Arts and Crafts) Museum, which is dedicated to great technical and technological innovations. This station is one of the most surprising stations in Paris. The platform is entirely covered with riveted copper plates, and the portholes are a trip into Jules Verne's Nautilus.
Concorde Station (line 12)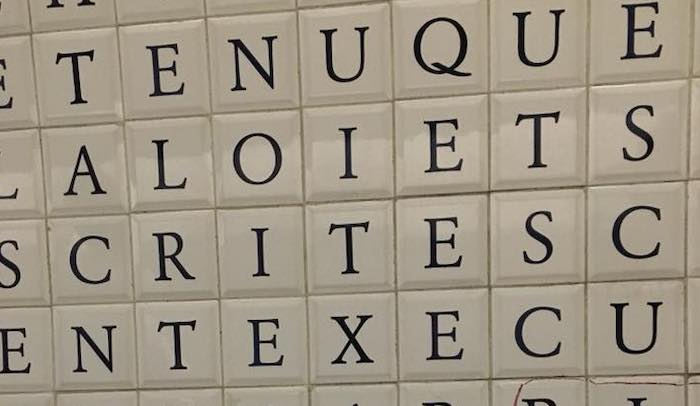 The Concorde square is one of the places that are the most steeped in history in Paris. You will therefore not be surprised to see the Declaration of the Rights of Man and of the Citizen on the walls of line 12. On every tile is a letter which, put all together (without any punctuation), will reveal the founding text of the French Republic.
Palais-Royal-Musée-du-Louvre Station (lines 1 and 7)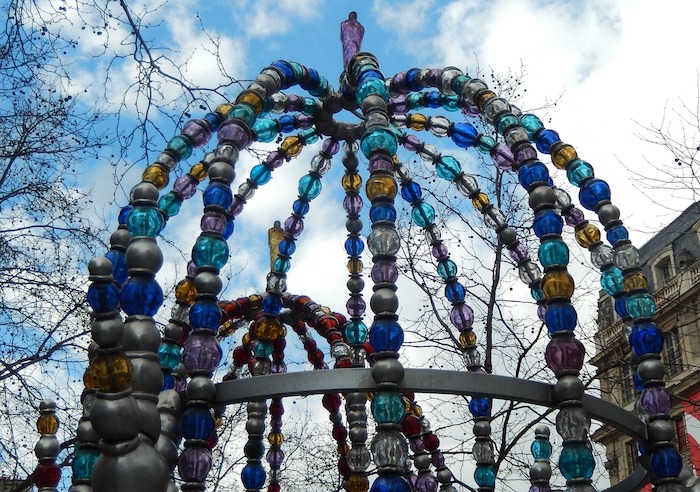 It is actually the entrance of the station (on Colette square) that is worth mentioning. Very different from Guimard's "Art Nouveau" entrances that you can admire here and there, this one is made of gigantic glass pearls forming a pavilion, work of Jean-Michel Othoniel (called the "kiosk of the night owls"). It is a much disputed style (as was Guimard's style back then), that definitely breaks all the rules of the classical style that you can find in the neighbouring area (Comédie Française, Constitutional Council of France, Palais Royal…)
Bastille (line 1)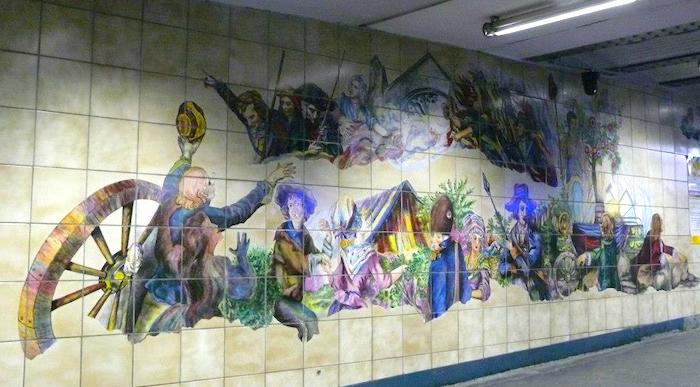 The platforms of line 1 are decorated with frescos recalling the highlights of the revolutionary history, from the beginning of liberal thoughts to the final feast, of course symbolised by the Storming of the Bastille. You will by the way find a few relics of the old fortress on the platforms of line 5.