The Place de la Concorde (Concorde Square) is first of all (and you will feel it as soon as you get in) a place filled with History. 
Architectural wonder of the XVIIIth century, this place is in France's history a symbol of revolution since the King Louis XVI and his wife Marie-Antoinette have been guillotined here in 1793.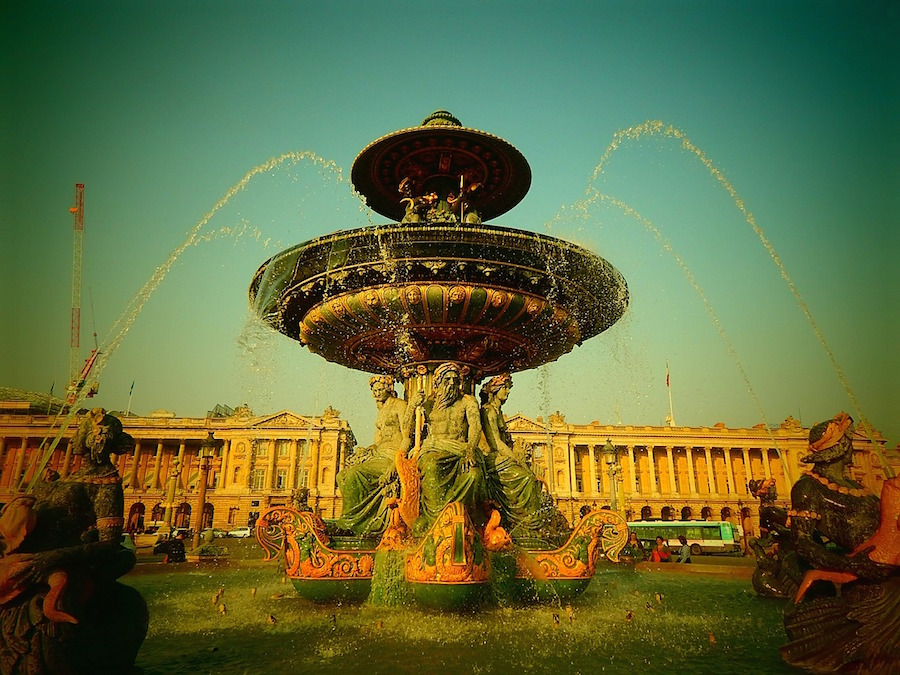 Almost every buildings you see date from the 18th and 19th centuries, as the ornaments like the fountains at the end of the obelisk or the street lamps. The obelisk, offered by Egypt, has been put on here in 1836.
At the north side, you will see, at the end of the rue Royale, the Madeleine Church. At the east side of the rue Royale is the Hôtel de la Marine (Navy's building), originally dedicated to the Royal crown, which is now where the Navy's high command stays. It is moreover talk of it getting back to the Minister of Defense to sell the concession out to a private owner, what breeds protests in the opinion of French lovers patrimony protectors.
At the west side of rue Royale, the buildings were mansions of officials. It is nowadays the Hôtel Crillon, one of the most luxurious hotel of the world, and the Automobile Club de France (France's Motoring Club), a private club. At the very left of these buildings is the United-States Embassy, built in the 20thcentury.
At the opposite, (South of the Place) behind the Pont de la Concorde, (Concorde's bridge) is the Palais Bourbon which is the parliament of French deputies (dating from 18th century).
At the east side of the Place is the Jardin des Tuileries, one of the most beautiful garden of Paris, and you will find at the west side the world-known Avenue des Champs-Elysées, as well known as the most beautiful avenue in the world.
Place de la Concorde is a magnificent not to be missed place, during a walk from Opéra to Invalides or if you go shopping rue Saint-Honoré.