The Opera Garnier is probably the monument the most representative, and emblematic, of Parisian architecture from the late 19th century. Built (1860 to 1875) during the huge transformation works of the capital led by Haussmann, but ordered by the Emperor Napoleon III, it is a majestic symbol of the Paris of the 20th century. In other words, a monument to visit without any hesitation !
VISIT THE MONUMENT
The free visit of the Opera Garnier (outside show times, see useful informations) not begins by the main entrance but by the left front of the palace, formerly reserved for subscribers (political and culture elite of the time). Built like a flower that slowly comes out, you first discover the magnificent rotunda, where customers were waiting, then the old fountain and statue of the Pythian, priestess in Ancient Greece.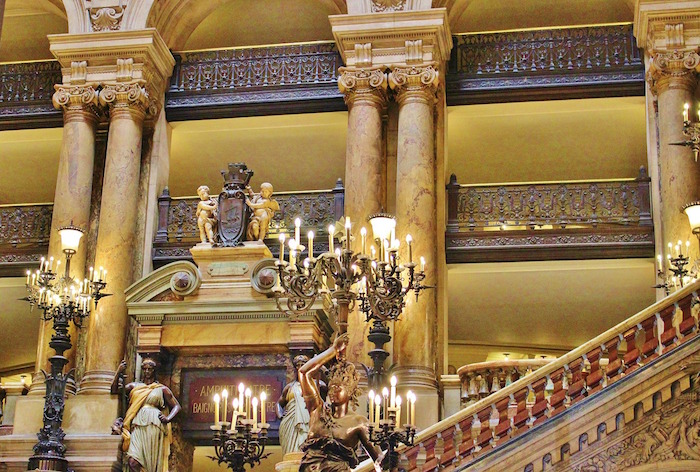 Continue your tour by taking the stairs of the Opera, one of the jewels of the monument. The flower blooms … They consist of twenty different marbles originated from several countries. Ceiling, note the beautiful paintings, representing among other things Apollo (god of music), or Orpheus charming the animals to the sound of the lyre. A wonder …
It's time to discover the theater and the incredible atmosphere that prevails there. Do not miss the dressing rooms and back reserved for receptions during intervals. Other splendors: the chandelier, which weighs over 8 tons and has 400 lights and ceiling painting made by Marc Chagall in 1964. Commissioned by André Malraux (Minister of Culture), this gigantic painting, donated to the city by the artist, depicts scenes from famous operas and ballets.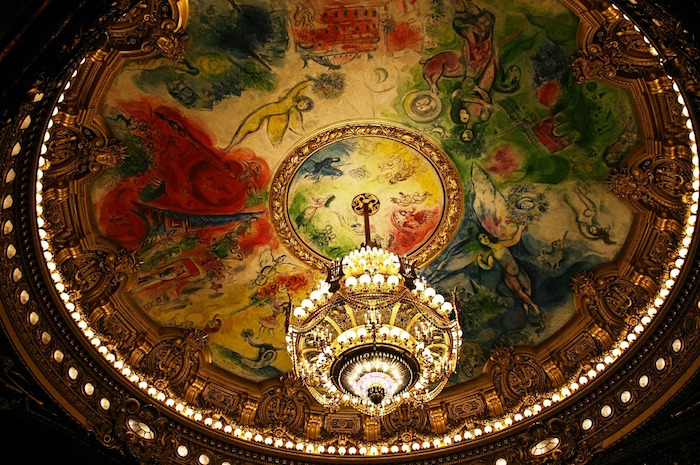 Visiting the Opera also gives you access to two homes, galleries dedicated to the promenade which sets were executed by Venetian artists that Garnier had specially brought from Italy, the museum, and the temporary exhibition space. A complete and amazing tour!
THE EXTERIOR FACADE
Leaving, do a tour of the outside building. You are now able to beter appreciate its magnificent architecture. See for examplethe statue of Apollo above the palace , or the Group Dance (arches to the right of the main entrance) made by Jean-Baptiste Carpeaux. Damaged, it is a copy that you can see the original at the Musée d'Orsay. You can also see in this museum miniature model of the Palace and its different rooms.