This monument (access is free) was built in the 17th century during the reign of Louis XIV and is today, with its golden cupola, a landmark in Paris (see the History of The Invalides for further informations).
The original purpose was to build a "royal home and hospital big enough to house all aged and unwell officers and soldiers and to ensure sufficient funds for their subsistence and care" (order of the king in 1374), which explains its name Hôtel des Invalides.
But behind these fine words hides another truth: the King being a real war lover, he couldn't stand the vision of cripples all over the capital who would harm his reputation. Being also a good strategist, the Invalides helped him hide these "wretches", but also to offer them a home and food.
Although imposing, the architecture of the Invalides is simple, composed of a main court, straight buildings and a church. The accommodations of the soldiers are today housing different museums surrounding the court of honour (Army Museum, split into several thematic halls. Admission charge).
You can still access the former rooms on the second floor, after climbing the small stairs that remind you they were built for disabled. The most curious visitors will discover carved names and drawings on the walls.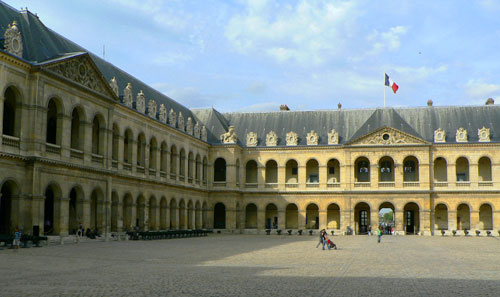 Through the court of honour you also have access to the soldier's church, which held an everyday service for the residents at the time. On the other side, going around the building, is the Dome Church, dedicated to the king. One of a kind, this church is split in two, separating the king from the soldiers, who were nevertheless attending the same ceremonies…
Today, the main attraction of the Dome Church, beside its architectural beauty, is the grave of the emperor Napoleon.