When the French language and legends collide, the results can be amazing. The story of the day tells you the birth of a typically Parisian label, a word whose image can not be dissociated from Paris : Bistro.
Searching the etymology of this word, bistro strangely appears as a Parisian orphan, an old resident that everyone knows but whose origin is ignored. Open a (french…) dictionary, the first contradictions comes up, and even spelling is confusing. "Bistro or Bistrot : uncertain origin" (we also find "obscure origin"). Let's then see these supposed roots.
One of them, which is nevertheless questioned because not enough "based", catch the eyes. Myth or truth, nobody really knows. There is one thing for sure: this is a very nice story.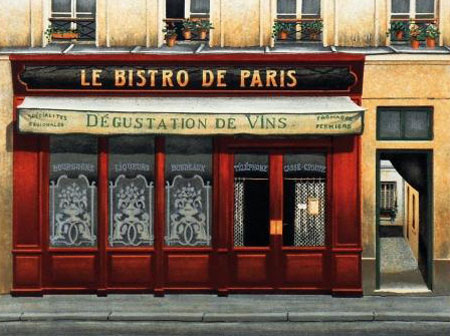 1814. The great Empire of Napoleon is living its his last hours. Prussians, Austrians, Bavarians and Russians are at the gates of Paris. Follows the French capitulation and then the entry with great pomp in the capital of the Russian Tsar and his troops. 
Staying true to themselves, the soldiers do not not miss an opportunity to visit Parisian bars to – using a cliché – drink a little vodka ! A behaviour though prohibited by the Tsar.
That is why after each command the boss is invariably ordered "быстро, быстро", meaning "soon, soon! ". In French, быстро is said … bistro!
Not spiteful, parisian still toast, 2 centuries later, to the glory of Russians.