Do you know the Wallace Fountains ? You could spend a whole day asking that same question to all Parisians you meet on the street, you would certainly get nothing but negative answers.
And yet, the Wallace Fountains have been a part of the Parisian landscape for over a century, and the inhabitants of the city see at least one of them every day. More commonly known by the name of "little green fountains", this most discrete heritage is the result of a very nice story.
1870. The French are about to lose the war against the Prussians. Napoleon III falls under a motion of impeachment as Paris is besieged, literally cut off from the rest of the country. Resulting from it, a terrible civil war will start (the "Commune de Paris"), which will put the city a little more in a situation of chaos, siege and destruction of all infrastructures stopping any food and water supply.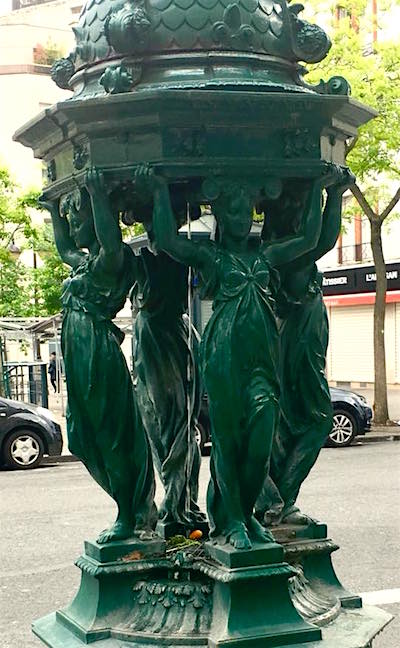 It is Sir Richard Wallace, British philanthropist and Parisian by heart, who then decided to provide Paris with public fountains so that its inhabitants don't have to die of thirst. Being an aesthete, he wanted to combine necessity with pleasure and even entrusted this project to a most renowned sculptor, Charles-Auguste Lebourg. For even in times of war, a dehydrated Parisian needs to satisfy his thirst for culture…
In 1870, 50 fountains were spread around the city. Today, there are around 120 of them, scattered throughout the city and still providing Parisians water for free – and potable, since it uses the same water system the houses do – from March 15th until November 15th.
And although they haven't been classified as a historical monument, they still are a real urban monument, symbol of both a terribly violent time and a generous and altruist gesture. 
– More informations about the civil war of la Commune de Paris at the Musée de Montmartre
– See the map of the Wallace Fountains in Paris