Mthical monument, the Cathedral Notre-Dame de Paris is also one of the most visited in the capital. A building started in the 12th century that knew many transformations.. A history sometimes forgotten, to (re)discover through these 8 interesting facts.
The "forest" of Notre-Dame
The frameworks of the choir and nave of Notre-Dame are among the oldest in Paris (late 12th-early 13th century). It is called "the Forest" because it represents the equivalent of 21 hectares forest. Each beam came from a different tree.
The beheaded Kings
Above the portals is the gallery of kings, 28 statues representing the kings of Judah, ancestors of Mary. Thinking that it was the Kings of France, the revolutionaries beheaded them ! Replaced by copies during the restoration of the monument in the 19th century, the original heads are now in the Museum of the Middle Ages.
The Bible
The portals of the main façade (west façade) are decorated with statues and sculptures. They all tell the story of the Bible, created for believers who could not read.
Examples on the central portal (Judgment Portal):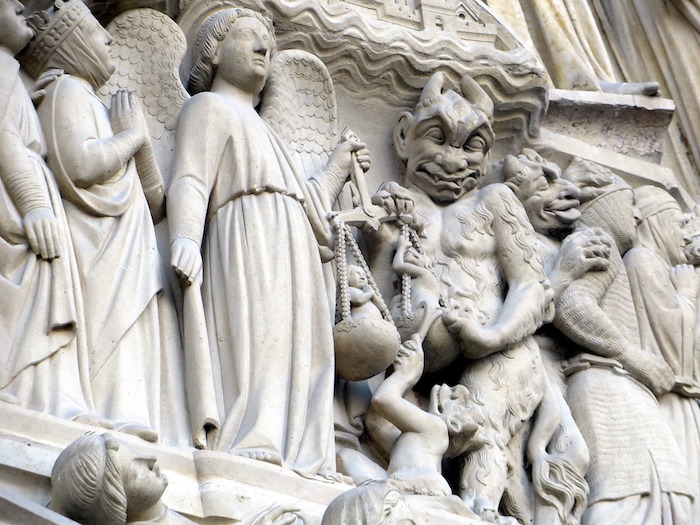 The archangel Michael weighs the souls of the dead. A little demon cheats to influence the verdict.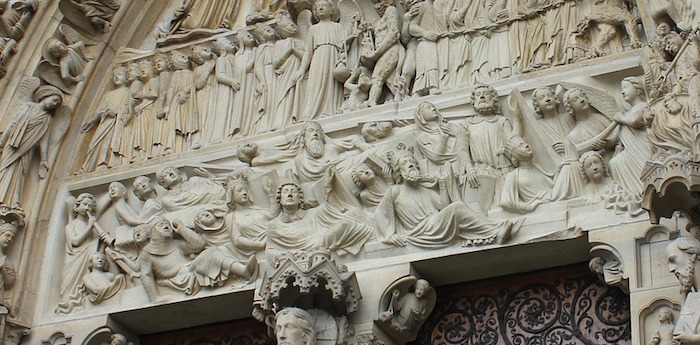 Below, the dead rise and come out of their graves.
Notre-Dame revival
Damaged during the French Revolution, transformed into a warehouse, the Cathedral was returned to the Catholic worship on 1802. 
It is thanks to the success of Victor Hugo's novel Notre-Dame de Paris, published in 1831, that was voted the restoration of the monument. 
Chimeras
Do not confuse gargoyles and chimeras. Gargoyles are the ends of gutters intended to drain off rainwater. The chimera are decorations.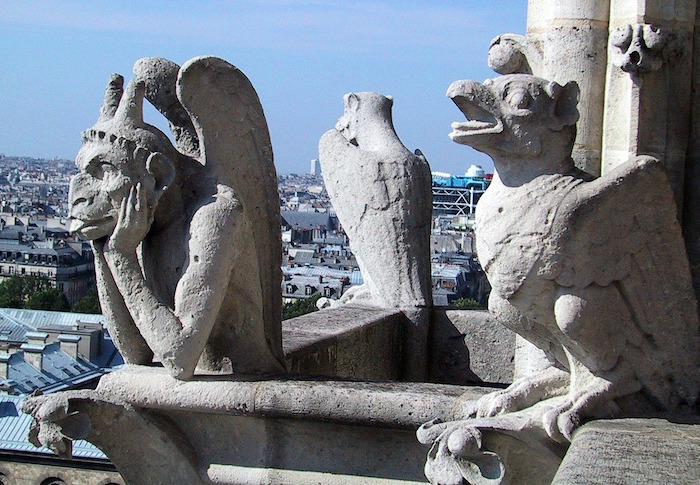 Well-known – and among the most symbolic elements of the Cathedral – chimeras did not exist in the Middle Ages. A fantastic bestiary which is a pure creation of the architect Viollet-le-Duc.
Viollet-le-Duc and Saint Thomas
The Cathedral spire also dates from the renovation of the monument by Viollet-le-Duc. Twelve apostles surround it, among which Viollet-le-Duc himself, represented as St. Thomas, contemplating his work.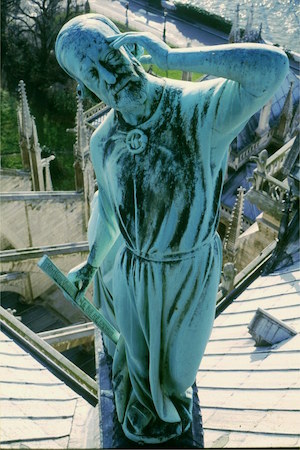 Kilometer Zero
The kilometer zero of France, beginning of all the roads of the country, is situated on the parvis de Notre Dame.