Under the Second Empire (dates) , the major work of Baron Haussmann have deepluy changed Paris . Among the major developments of this time is the  "Petite Ceinure " (Little Ring road), old  32km train track around Paris.
Built between 1852 and 1869 , it carried goods and passengers until 1934 , then will be gradually abandoned, replaced by the Paris metro and the set-up of a new public transport network.
While nowadays sections of the railway are connected to the existing network (RER, SNCF) or simply remain disused , others have been converted into unique green spaces in Paris.
Discover these lovely walks that combine biological richness , history, and unusual visit.
Le Sentier nature (Nature Trail) , 16th arrondissement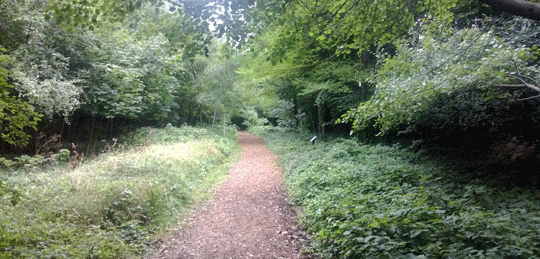 Formerly called « Auteuil line », this section is the only one of the Petite Ceinture to have worked until 1985. Abandoned by human activity , this trail was quickly colonized by abundant vegetation that has been turned into an ecological passageway that can be freely strolled .
1,2 kilometer long, the Sentier Nature goes from Porte d'Auteuil to La Muette (16th arrondissement). Punctuated by "natural steps" , you will discover an amazing biodiversity , which we do not expect to find in this part of Paris ! Meadow , wetland, it is a mosaic of various landscapes (trees, shrubs , ferns ) where many animal species live ( birds, insects and butterflies) .
Undoubtedly one of the most amazing places in Paris .
Petite Ceinture 15th arrondissement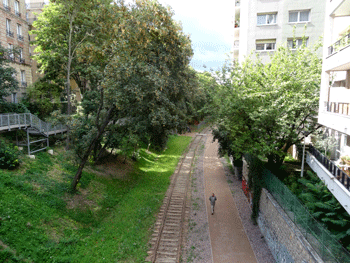 Through the 15th arrondissement , this old track formerly served Citroën Factories (now Parc André Citroën ) and Vaugirard slaughterhouses (now Parc Georges Brassens )
With its railroad tracks , former stations and air lifts, the Petite Ceinture du 15e is a charming historic place with appearences of wasteland… Opened in summer 2013 , it offers a stroll that alternates between urban landscape and wilderness. Unusual panoramas for an original green walk !
Converted in accordance with the biological requirements, the Petite Ceinture du 15e holds a rich and important biodiversity that must be preserved .
Petite Ceinture 12th arrondissement
Only 300 meters long , this path is rather to discover in addition to the Coulee Verte.
Located at the end of the square Charles Peguy ( 21 rue Rottembourg ) , this area of ​​the former train track has a shared garden and a nature trail . 200 m long , this one enable to discover city's biodiversity through three steps devoted to grassland, thicket and afforestation.