Le Marais is above all known for being one of the major cultural centers in Paris, filled with wonderful museums and « Hôtels Particuliers » typical of the 16th and 17th centuries.
But this neighborhood is also a mecca of shopping. If you will find many designers shops and all major brands rue des Francs-Bourgeois – main street of the Marais – you might also visit the Village Saint-Paul, a charming labyrinthine courtyard of resale, contemporary art and second-hand shops.
Originally a place made of antique dealers attracting a predominantly American clientele, Village St-Paul has changed a lot over the last ten years, become nowadays a market with a wider variety of products. Furniture and decoration, toys, flea market, it is a place to stroll searching original objects.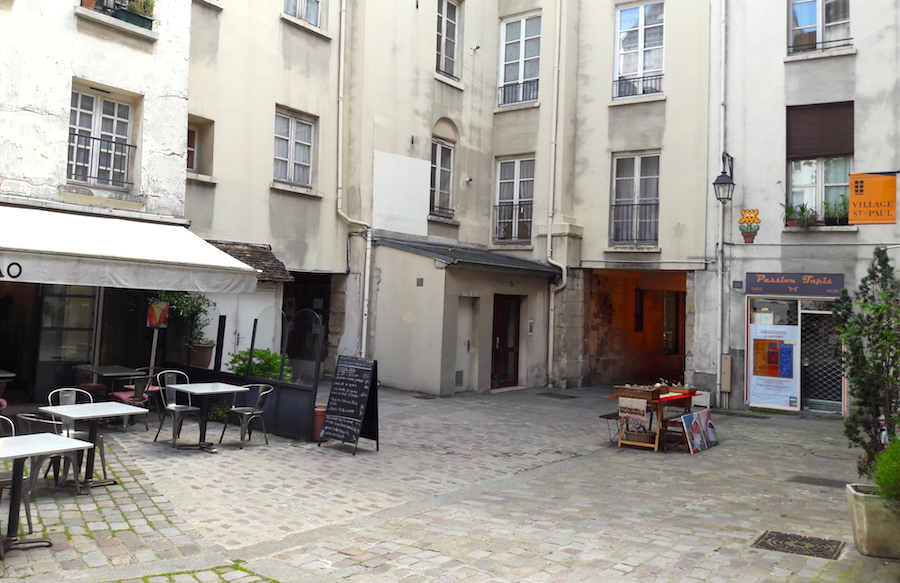 Made up of several courtyards, the village Saint-Paul preserved an authentic atmosphere where window-shoppingit is as nice as just walking around. You will discover a quiet and calm atmosphere, away from the noise and cars, a real luxury in Paris …
Then, after your visit, you will no doubt enjoy the terraces of the few bars and restaurants in the village.
Village St-Paul is situated just few steps from the Ile Saint-Louis, to be discovered during a walk in the Marais.
Bordered by the rue des Jardins St-Paul, you can also see on the street one of the most important remains of the wall Philippe Auguste.