It is a rather unknown fact, but the district of La Défense, one of the most important European business districts, takes its name from a sculpted group posed in the 19th century, when the high towers had not yet invaded the west of Paris. If the statue is still present towards the esplanade, a preparatory plaster model is visible at the Petit Palais.
La Defense of Paris, 1870-1871
After the capitulation of Napoleon III in September 1870, Paris continued the fight against the Prussians during the winter of 1070-1871. A defense of the city was organized, which attempted several sorties to break the enemy siege. On January 19, 1871, a final attempt was launched by the French troops in the direction of Saint-Cloud, Garches and Rueil, an essential step to recover Versailles. This battle (Battle of Buzenval), lost, will be the last before the signing of the armistice on January 28.
In 1879, the government decided to launch a competition to build a statue in honor of the combatants of Buzenval. Nearly one hundred sculptors, including Rodin and Bartholdi, take part in the competition for La Défense de Paris. The project selected by the jury is that of Louis-Ernest Barrias (1841-1905). Inaugurated in 1883 on the old Courbevoie roundabout, where the French troops left on January 19, 1871, this sculpted group will give its name to the district!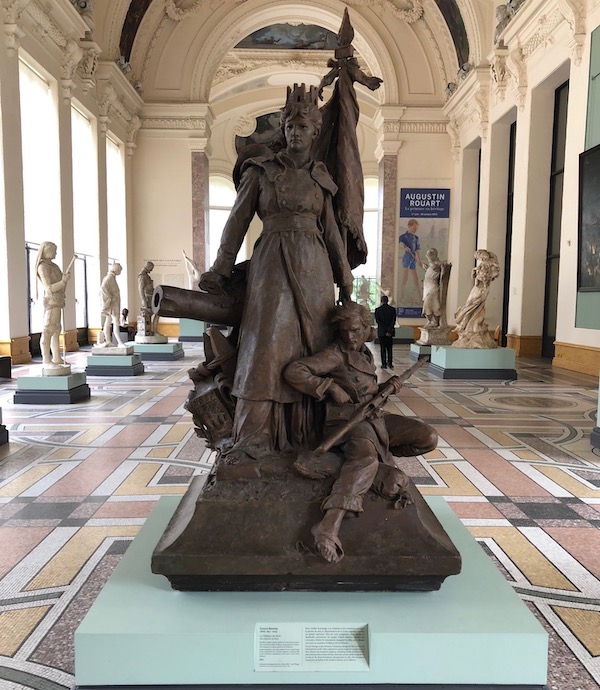 We see three figures that symbolize the defense of Paris:
a woman, dressed in the uniform of the National Guard, leaning on a cannon and holding a flag, an allegorical figure of the city of Paris;
a young guard who places a final round in his rifle.
on the other side of the monument, a prostrate girl who, with her sad expression and miserable appearance, personifies the suffering of the civilian population.
To be seen at the Petit Palais !