Grandiloquent and monumental masterpiece (six by ten meters) by the official painter of Emperor David, the Coronation of Napoleon, exhibited at the Louvre, is both a historical testimony and a total fiction. A paradox that has an advantage: that of telling us an infinite number of stories, from little anecdote to great moments in the history of France. Journey through an extraordinary painting.
A propaganda tool
The coronation of Napoleon, of his full name The Coronation of the Emperor Napoleon 1st and of Empress Josephine, is above all a propaganda tool, ordered by Napoleon to establish his power, and the new dynasty that he embodies. If the coronation took place on December 2, 1804 in the Notre-Dame-de-Paris cathedral, the painting was only produced between … 1806 and 1808.
Originally, David had depicted Napoleon placing himself the crown on his head. By changing his subject, a void appeared between the back of the Emperor's head and the Pope. David therefore placed a head of Julius Caesar, inspired by a bust from the Louvre collections.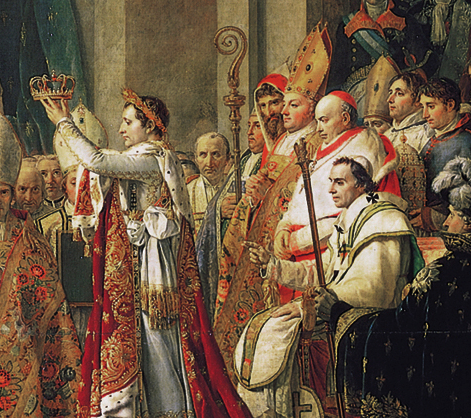 We also see Pope Pius VII blessing the scene, when in reality he was just praying. By this official representation, Napoleon granted himself the support of the Church. Without really giving it a choice…
The Notre-Dame-de-Paris cathedral, which had never been used in history for coronations, however royal, was chosen by Napoleon. But the monument had suffered extensive damage during the French Revolution. To hide the misery, the interior had been covered with silk, velvet and sheets with the coat of arms of the Empire embroidered in gold. A reality that does not really reveal the painting. The Revolution was, in the minds of power, well and truly over …
Josephine, who was 42, had her hair and make up done to look younger. This is not the first time that Napoleon has tried to make people forget their age difference (Joséphine, born in 1763, was 6 years older than Napoleon, born in 1769). For their marriage (1796), the years of birth had already been modified on the act so that they were the same age.
The present absents…
Letizia Bonaparte, mother of the Emperor, had refused to attend the ceremony after a family dispute. She is nevertheless present on the painting, and even sits in the middle of it.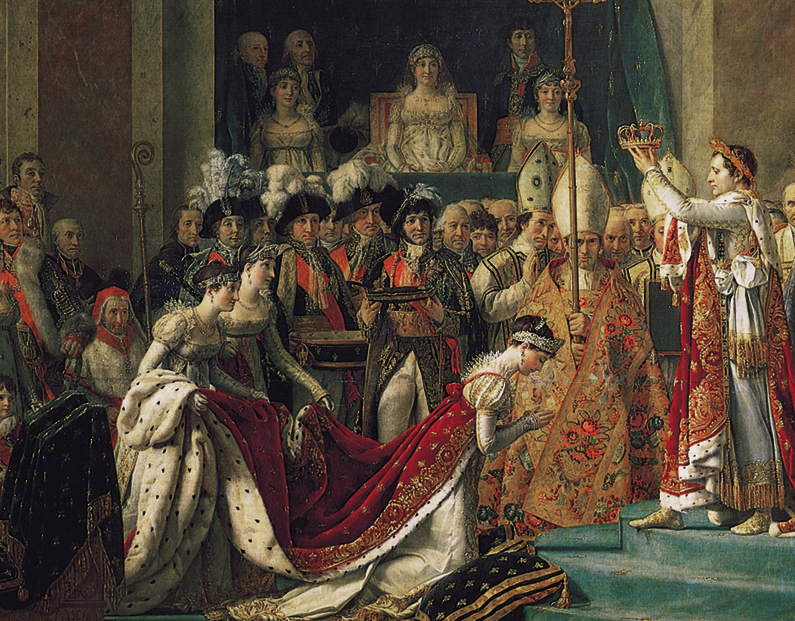 The Istanbul ambassador is pictured when, as a Muslim, he had not been allowed to enter the cathedral. A presence that recalls Napoleon's attachment to the Muslim religion, especially developed during the Egyptian campaign (1798). "I like the religion of Mahomet better, it is less ridiculous than ours", Napoleon would have said at the end of his life.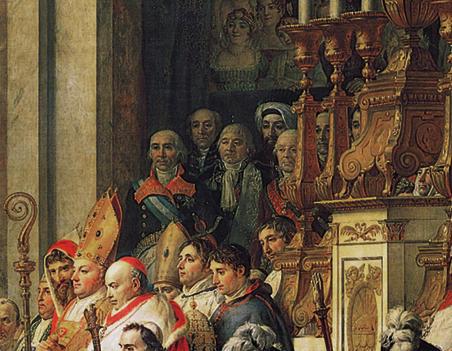 "It is not painting, we walk in it", would have said the Emperor during a visit to the painter. Between allegories, propaganda and anecdotes, it is indeed an extraordinary walk in the history of France that this painting offers us!