The name "Gobelins" comes from Jehan Goblin, who settled in the 15th century in the banks of the Bièvre river to create dyeing workshop. Its activity became very well known in the Faubourg Saint-Marcel, then bought by the king to become "Crown's Royal Factory of furniture and tapestries". An original discovery of a very old French institution.
HISTORY In 1602, Henri IV decided to develop the French factory to limit imports of products like carpets and tapestries, which the Royal Court was a big consumer. He rented buildings owned by Gobelin descendants tapestry and settled two Flemish to run it: Marc de Comans and François de la Planche.
In 1662, Colbert (Minister of Louis XIV) bought the buildings for the crown and decided to create the "Crown's Royal Factory of furniture and tapestries", where settled upholsterers but also painters, goldsmiths, engravers… Reserved for furnitures fot Royal Houses and diplomatic gifts, it will know a 30 years heyday, before being closed by Louis XIV who ruined the country with wars…
From the 18th century until today, the Gobelins continue to weave contemporary masterpieces, according to the origins of this old institution. Today, the Factory depends on the "Mobilier National" (National Furniture), which reinforced concrete headquarter located rue du Barbier Mets is a major construction of Perret brothers.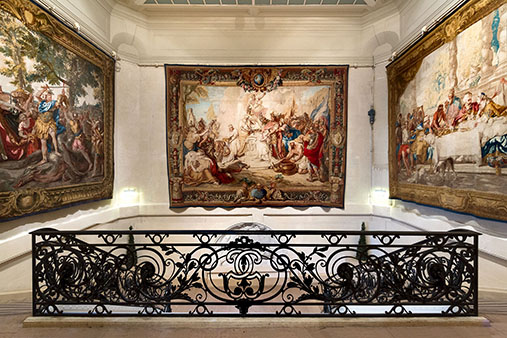 VISIT THE FACTORY
Today, the Manufacture Nationale des Gobelins still weaves tapestries to decorate public buildings. 3 days per week ( Tuesday, Wednesday and Thursday) you can discover the history of places and see the workshops through visits organized by tour guides. The gallery can also be visited freely during temporary exhibitions inside buildings.
During your visits, in addition to the discovery of weavers, do not miss the buildings and courses of the Factory . Some indeed date from the 17th and 18th centuries, including the house of the first director Charles le Brun, or the old chapel built in 1723.