Created in the 18th century, Parc Monceau hides many curiosities. Among them, the one called Naumachia is undoubtedly the most surprising … and one of the prettiest. A park and a ruin that were never meant to be reunited, and both escaped destruction.
To understand this unusual monument, we must first go back to the creation of the park. In the 18th century, the Duke of Chartres, cousin of Louis XVI, decided to build a vast residence with a bucolic feel outside of Paris. The district was at the time a suburb on the edge of the city, and the Duke, known for his taste for pomp, wanted an original creation. Owner of the Palais-Royal, whose gardens he completely redesigned, he simultaneously launched the Folie de Chartres, a magnificent pavilion surrounded by nature that he wanted to decorate with exotic decorations.
The landscaper Carmontelle will create on 20 hectares a real land of illusions, where pagodas, pyramids, minarets, Dutch mills and… Naumachia come together.
In ancient Rome, Naumachia was the name given to the basin where the shows of naval battles took place. But the columns which surround the basin of Parc Monceau were not at all created on this occasion. On the contrary, they were recovered from another ruined monument.
They come from the Rotonde de Valois, a building commissioned by Catherine de Medici on the death of her husband Henry II, planned to stand next to the basilica of Saint Denis. Supposed to house the Valois dynasty, construction stopped in 1589, date of the death of Cathérine de Médicis and her son Henri III, the last of the Valois… The Bourbons succeeded, and the monument was almost abandoned. Destroyed in 1719, the columns were recovered by the Duke of Chartres to decorate his garden.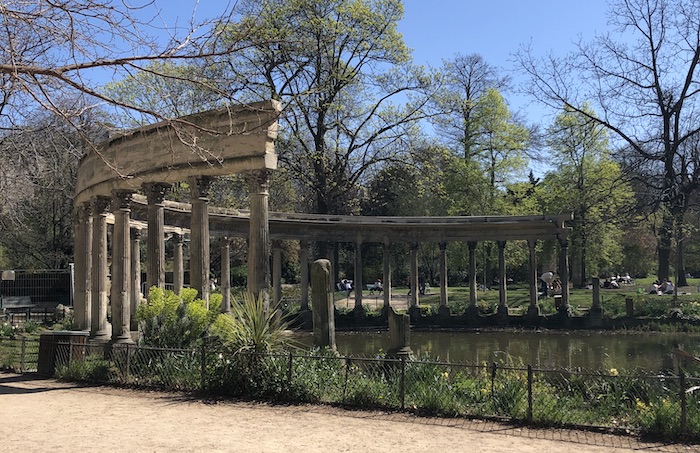 Parc Monceau underwent important transformations during the Haussmannian works. Under the direction of Adolphe Alphand (1817-1891), the space was halved (the rest having been sold to wealthy bourgeois for the construction of mansions) and redesigned in the English style dear to Napoleon III. Certain decorations, such as the mills or the minaret, have disappeared.
The Naumachia, it is still there, and constitutes one of the last witnesses of the original garden of illusion.