Built in the 13th century by King Saint-Louis to house his collection of religious relics, the Sainte-Chapelle is visited for the beauty of its stained glass windows, among the most sumptuous in the world.
1.
King Louis IX (future Saint-Louis) built the Sainte-Chapelle in the heart of his royal palace on the Île de la Cité to house the relics bought to the Emperor Baudouin II of Constantinople, who had pawned these relics to a Venetian bank.
2.
Originally, 22 relics were acquired by Saint-Louis. There are now only three: a fragment of the cross, a nail, and the crown of thorns. They are now part of the Notre-Dame de Paris treasure. The Sainte-Chapelle no longer houses these relics.
3.
The crown of thorns was bought 135,000 livres tournois, about half of the annual income of the royal domain. The construction of the Sainte-Chapelle cost about 40,000 livres tournois, three times less than the crown of thorns !
4.
The Sainte Chapelle is made of two different chapels: the lower chapel, originally dedicated to the the officers, and the upper chapel, dedicated to the king and his family.
5.
The architect of the Sainte-Chapelle is unknown. 
6.
The upper-chapel is made of 618 m2 of glass. An wonderful combination of lightness and balance.
7.
These chapels were completely restored in the 19th century. The decoration of the upper chapel is based on descriptions and drawings of the original buildings, but the lower chapel was entirely "reinvented" for lack of documentation.
8.
From the altar, Saint-Louis showed the relics to the Parisians every year on Good Friday.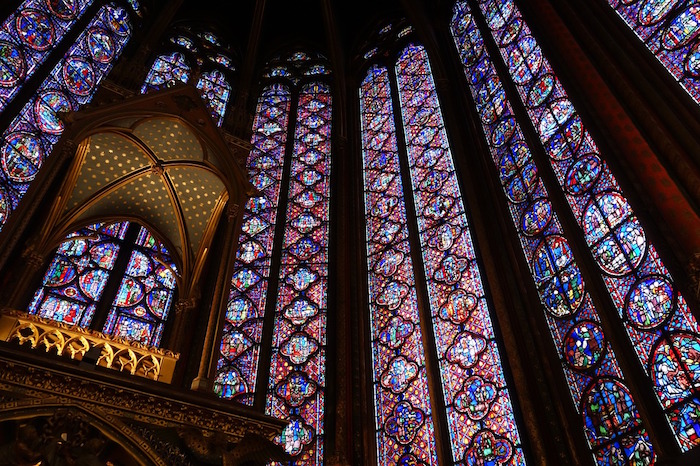 9.
The 618 m2 of stained glass windows in the upper chapel illustrate biblical scenes from both testaments. They depict 1,130 biblical figures.
10.
The rose window does not date from the 13th century as the stained glass, but from the 15th century. It has 87 petals.