At a time when the labor code was still a vagueness concept – a time not that old – the pavements of Paris were full of men and women who, to sustain themselves, were doing in "odd jobs" all over the capital.
Discover these jobs that have nowadays disappeared.
Street Lamp lighter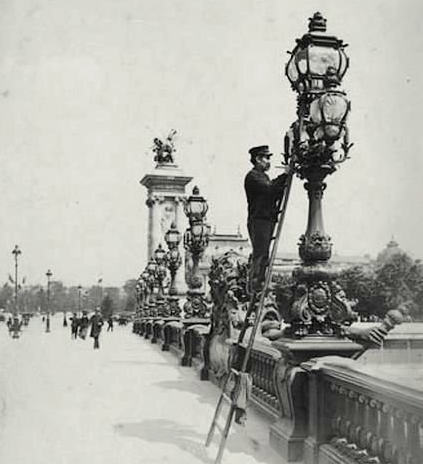 A profession that flourished in the 19th century, with the proliferation of gas lamps in the capital. The lamplighters employed by the town hall, were deployed in the city after dark to illuminate the streets of Paris, and were in the opposite direction from 6 am to extinguish. A craft disappeared with the advent of the light bulb in 1889.
The Guardian Angel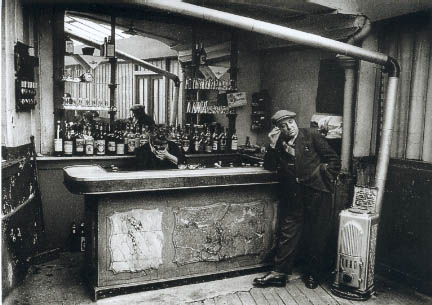 The Guardian Angel was employed by wine dealers. He was responsible for escort home drunken customers. A business paid a few pieces which nevertheless require strong psychological skills ("No, Sir, your wife is not going to blame you") and patience (the face of anger or tears caused by drinking abuse).
The Leech renter
The leeches renter had to dip into the Seine and wait until the bugs are glued to their thighs. Booty then sold to pharmacists fond of these mini-vampires to heal the sick and make drugs.
The "Arlequins" seller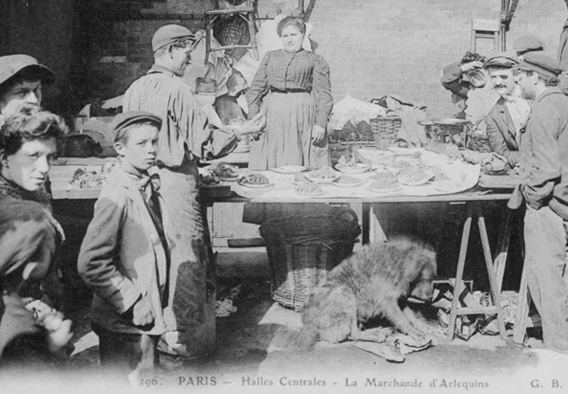 sold in the street a single meal she had made from the remains recovered in bourgeois tables and restaurants.
The Orphan Picker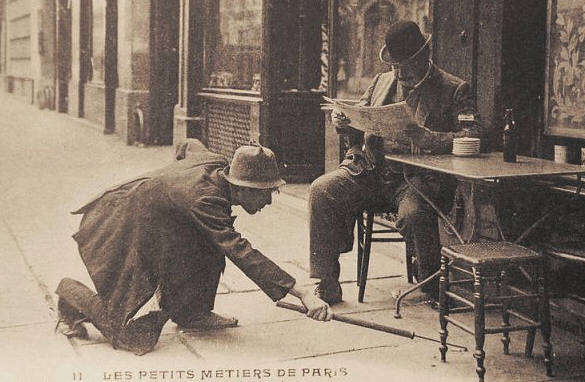 An original name for a rather thankless job, which was to pick up cigarette butts on the ground to sell the recovered tobacco.
The turd picker
If turd pickers still exist today, those of the 19th century had a very specific function. They brought indeed pounds of droppings to tawers located on the banks of the Bievre, who used their acidity to remove grease from animal skins before turning them in leather.
The Undropper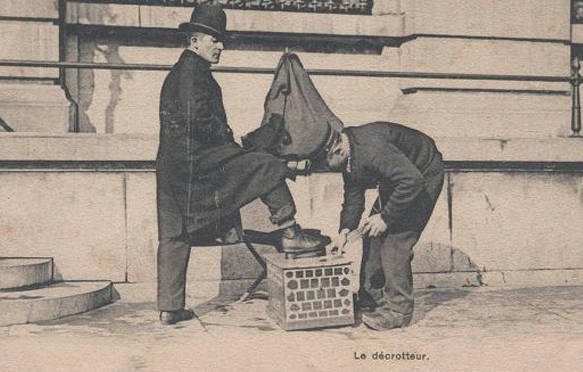 Several centuries ago, walking on a shit was already unpleasant. Fortunately, turd scrapers were there to clean up your shoes …
The fire merchant
If you were outside without a flame to light your cigarette in the 19th century, you could go to meet a fire merchant, who was walking with a fire kept in a small lantern. 
Pimpernel merchant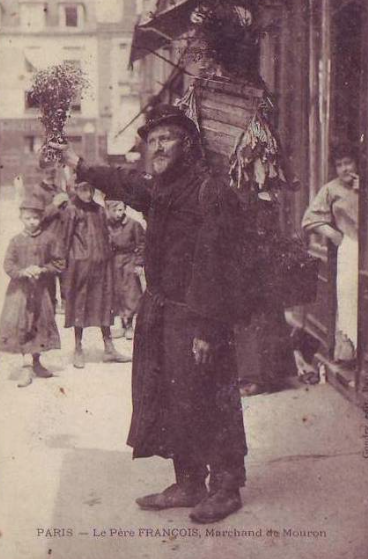 Pimpernel, also called Chickweed, is a very common grass growing all season and that can be found everywhere in Paris, even in the most unexpected places. An eatable grass that merchants were selling for soup, but mostly in the gardens to entertain the kids who wanted to feed the birds.