For several years, Paris provided many bike paths, promoting rides all around the city. From the Seine to the most popular sights of Paris, discover 5 routes in Paris.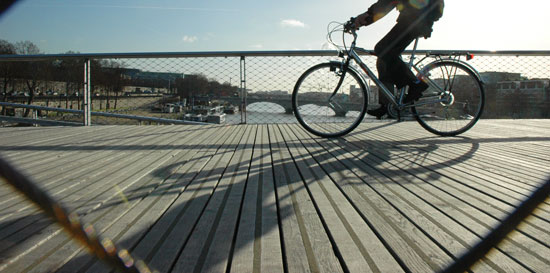 1. Seine's banks – 6,5 km
Ride along the beautiful banks of the Seine looping from the Place de la Concorde,and passing by the Île de la Cité.
2. Bastille > Parc de la Villette – 5,6 km
A lovely route that begins at the Place de la Bastille, along the Canal Saint-Martin as far as the beautiful Jardin de la Villette. A ride you can also contnue outside Paris (more information).
In the sense Bastille> La Villette, the ride climbs in some places (especially at the Canal Saint-Martin)
3. Le Nord de Paris – 4,5 km
Discover the North of Paris bike and its different neighborhoods from the beautiful Parc Monceau to the Place de Stalingrad.
A ride you can also complete with the route of the balde # 2.
After the Parc Monceau, you will cross the chic 17th arrondissement, pass by the Pigalle district, at the foot of Montmartre and Barbès by the district before reaching the Place de Stalingrad.
4. Le sud de Paris – 10 km
Cross the southern part of Paris and discover the variety of neighborhoods and monuments that compose it. Start at the Montparnasse Tower to the Eiffel Tower, then ride along the Seine before cycling the legendary boulevard Saint-Germain.
5. Promenade nature – 5 km
Take the Coulée Verte (Green Walk), in the twelfth arrondissement. If you can not take the first part, reserved for pedestrians (avenue Daumesnil), you will discover from the Jardin de Reuilly a beautiful green landscape as far as Lake Daumesnil. Then you are free to stroll in the Bois de Vincennes.