Inside Passage Jouffroy, the Hotel Chopin draws attention. And for good reason ! Its pretty wooded facade, listed as a Historic Monument, offers a delicious journey through time, while its name reminds us that the district was the heart of Romanticism in the 19th century. An old establishment which is one of the oldest hotels in Paris to discover during a walk in the covered passages.
Passage Jouffroy
Emblematic covered passage in Paris, the passage Jouffroy opened its doors in 1846. These galleries that broke through the city and protect from bad weather have been very fashionable since the Restoration. At that time, Paris was still a medieval city, and this vast network of covered streets lined with shops aired the city while offering the population modern entertainment. Felix de Jouffroy, a wealthy industrialist, added significant innovations along the way, such as offering a cover made entirely of metal and glass as well as an underfloor heating system. The success was total.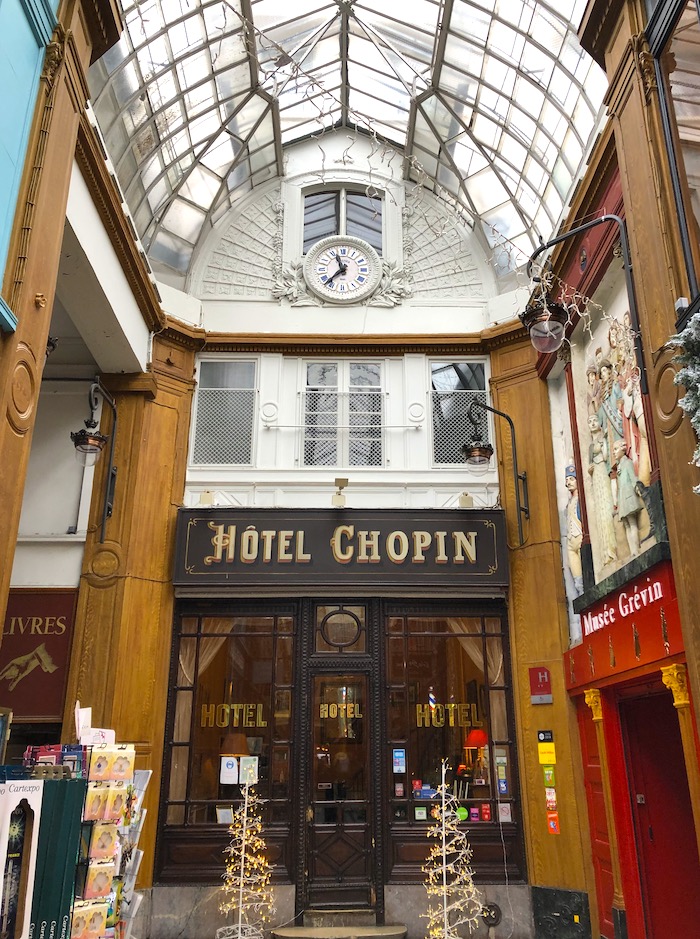 If today this passage is best known for housing the Grévin museum, the magnificent Chopin hotel is impossible to be indifferent about. A place that also hides a few little secrets…
The Chopin Hotel
Like most of the facades of the passage, the wood of the Hôtel Chopin is only an ornament. First passage to be built entirely in iron and glass, different wood species were used to hide the metal structures that support the glass roof. Inaugurated in 1847, it was originally called the Hôtel des Familles.
It took its current name en 1970, in homage to the famous composer and pianist who lived in the New Athens district, epicenter of romantic salons in the 19th century. The musician used to cross this passage when he went to the heart of the city, and it is said, but the information is not certain, that he would have spent a few secret stays in this hotel with George Sand…
Finally, the hotel hides an unusual detail. Indeed, its door has no… lock. It has therefore been open to customers and visitors without interruption for 175 years! Note, however, that I noticed a small hook installed on the inside of the door. A little cheat that we will pass over in silence…