Built under Louis XIV on the site of ancient wall that surrounded the Paris, the Grands Boulevards were the first great promenade of the capital. In the western part, nobility and finance built magnificent mansions, while in the eastern part, called Boulevard du Crime,  were established popular attractions. A symbol of the Parisian art of living in the 19th century to discover during a 2 hours walk.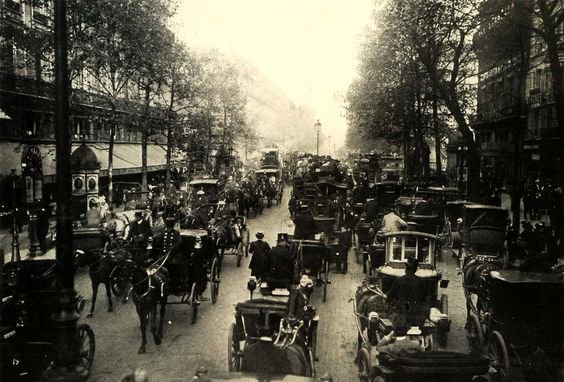 The stroll
The walk begins place de la Madeleine.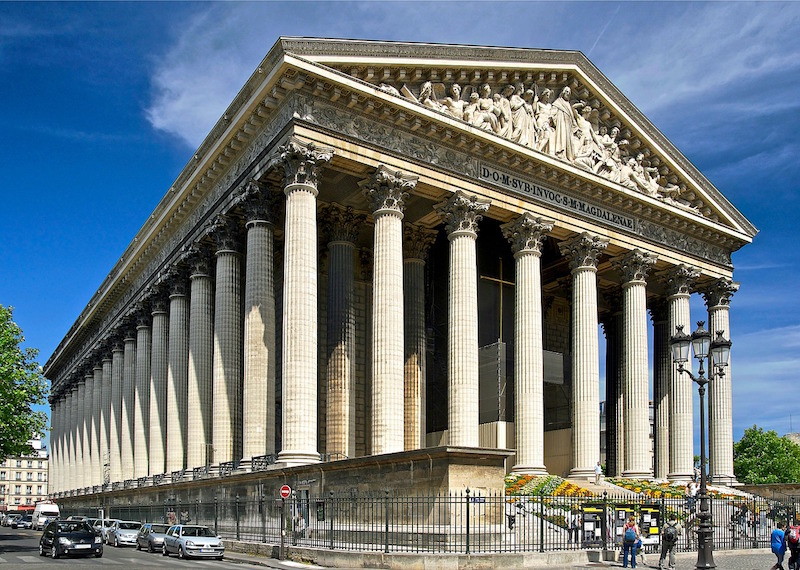 Begun in 1764, the construction of the church stopped during the French Revolution. In 1806, Napoleon decided to make it a Temple of Glory dedicated to his army. Unfinished at the fall of the Empire, the building was reassigned to Christian worship. Inaugurated in 1842, its construction lasted nearly 80 years!
Take boulevard de la Madeleine.
At No. 2 (corner of rue Caumartin) is the remains of an astonishing private mansion built in 1779 for Charles-Marin De La Haye, King's general farmer. The roof was made of a terrace decorated with columns, pyramids and arches of triumph. Two small Chinese bridges also crossed a stream giving out water in the dining rooms !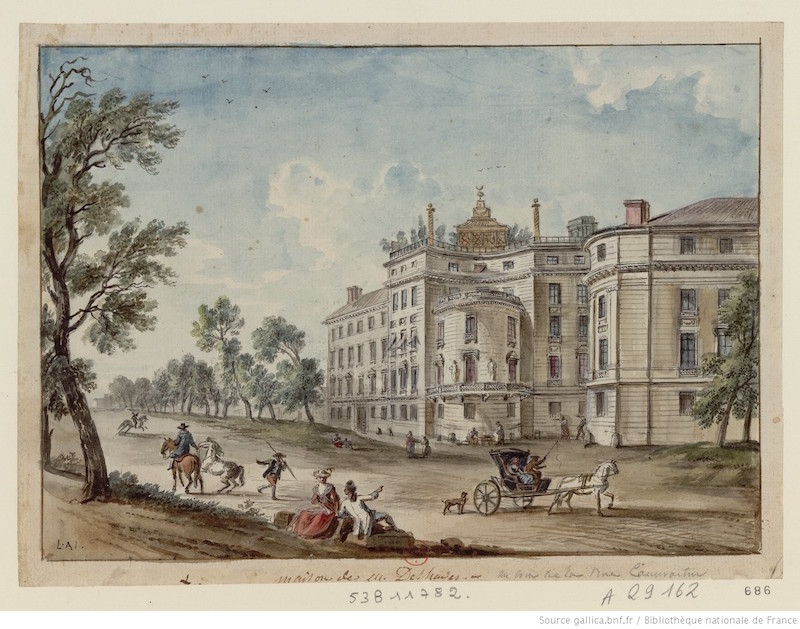 Dessin de l'Hôtel Marin-Delahaye en 1779
There is unfortunately no remains of those decorations. 
This mythical theater has been created in 1888 by Joseph Oller, founder of the Moulin Rouge. 
14, boulevard des Capucines, at the Hôtel Scribe, a sign indicates that here, on December 28, 1895, the Lumière brothers gave their first paid public screening.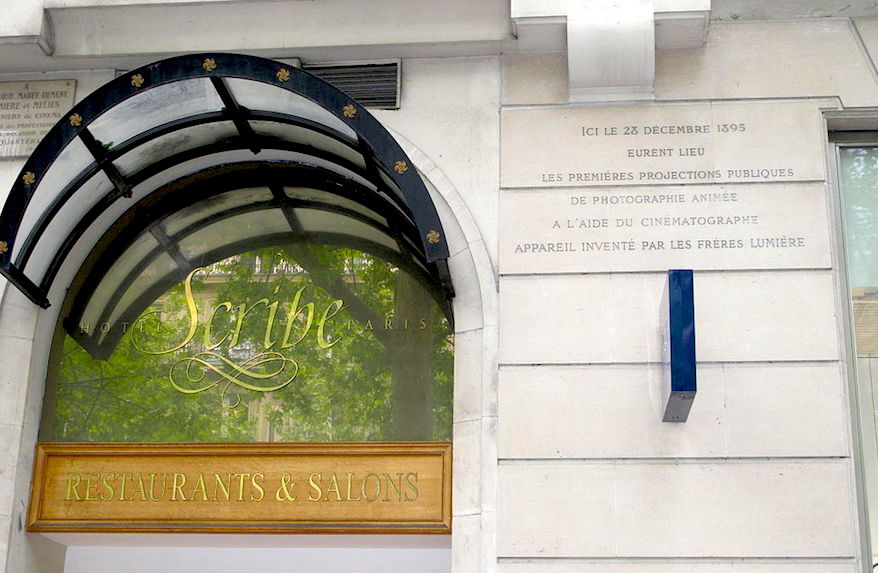 Go straight ahead until the Opéra Garnier.
Iconic monument of Paris, the Opéra Garnier is the work of the architect Charles Garnier, who won a competition launched by Napoleon III in 1861.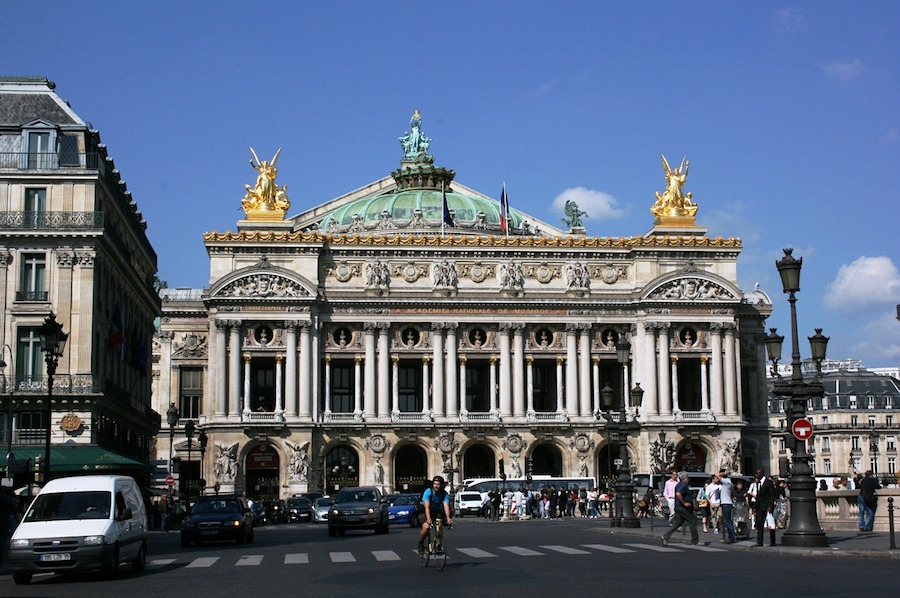 Continue to 5, boulevard des Italiens.
At 5, boulevard des Italiens, you can see a very nice covered passage, the last one built at the time of Haussmann. Rebuilt identically in 1995, it is a fabulous witness of the golden age of covered passages in Paris.
Continue straight on to 11 Boulevard Montmartre.
You are in front of the Passage des Panoramas, one of the very first covered passages built in Paris (1799). The public gas lighting has been experimented for the first time in this passage in 1817. Opposite is the passage Jouffroy (1847), the first passage whose structure is entirely designed in metal and glass.
Go straight ahead until the Grand Rex (1 Boulevard Poissonnière).
This mythical movie theater, which opened in 1932, is one of the finest examples of Art Deco architecture in Paris.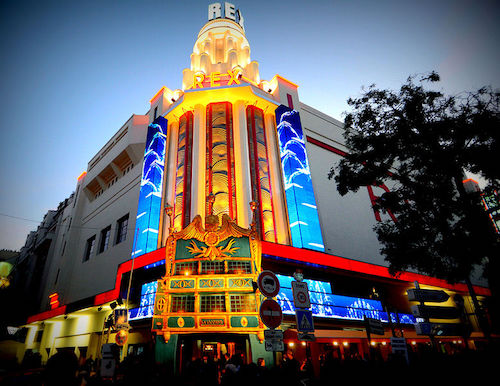 Continue straight until the Porte Saint-Denis. This triumphal arch, dedicated to the military victories of Louis XIV, has been built in 1672.
Further is the Porte Saint-Martin, also built in honor of Louis XIV, in 1674.
End of the walk. You can enjoy a drink on the Place de la République, or keep walking along the Canal Saint-Martin.