If today the oldest bridge in Paris is – as its name does not indicate – the Pont Neuf (New Bridge), the Pont Notre-Dame is located on one of the oldest roads in the Paris, dating back to the Gallo-Roman period.
It then knew many transformations to become the current bridge, which has been built during the Haussmann period. A Bridge that experienced a very turbulent history!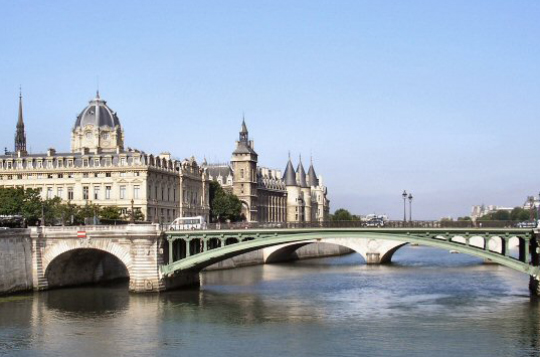 First and second pont Notre-Dame
Notre Dame Bridge may have been one of the first all bridges in the capital, the one we can see today is nothing like the first one, built by the Romans on the Cardo Maximus, a major axis crossing the city from north to south.
Built on stilts, the first Notre Dame bridge was destroyed after the invasion of Normans in the 9th century, replaced by a wooden bridge that was in its turn destroyed during the great flood of 1406.
The third pont Notre-Dame
In 1413, King Charles VI laid the first stone of a new bridge Notre Dame, entirely made of wood, and that will support more than 60 houses, mills, and beautiful shops that will make the bridge one of the most elegant places in Paris. Unfortunately, it collapsed again during a flood on October 25th, 1499.
The fourth pont Notre-Dame
Not reluctant to fatality, Parisian decided to rebuild the bridge … But this time with stone! Inaugurated in 1507, it hosted 60 six floors houses with numbers : it was the first houses numbering in Paris.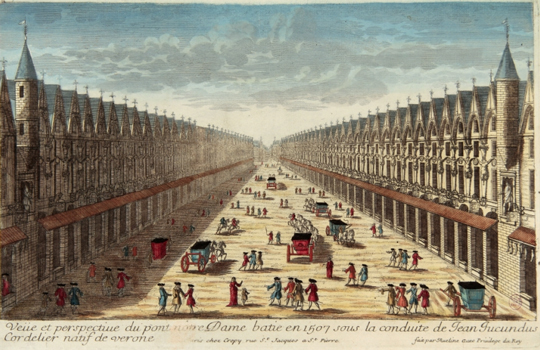 Vue et perspective du Pont Notre-Dame – Gérard Leyris / Musée Carnavalet
Then, the Pont Notre-Dame not yielded but was restored in 1659 to celebrate the arrival of Marie Thérèse d'Autriche, future Queen of France and king Louis XIV's wife. At that time, the bridge was almost exclusively composed of art galeries, and found its former times prestige.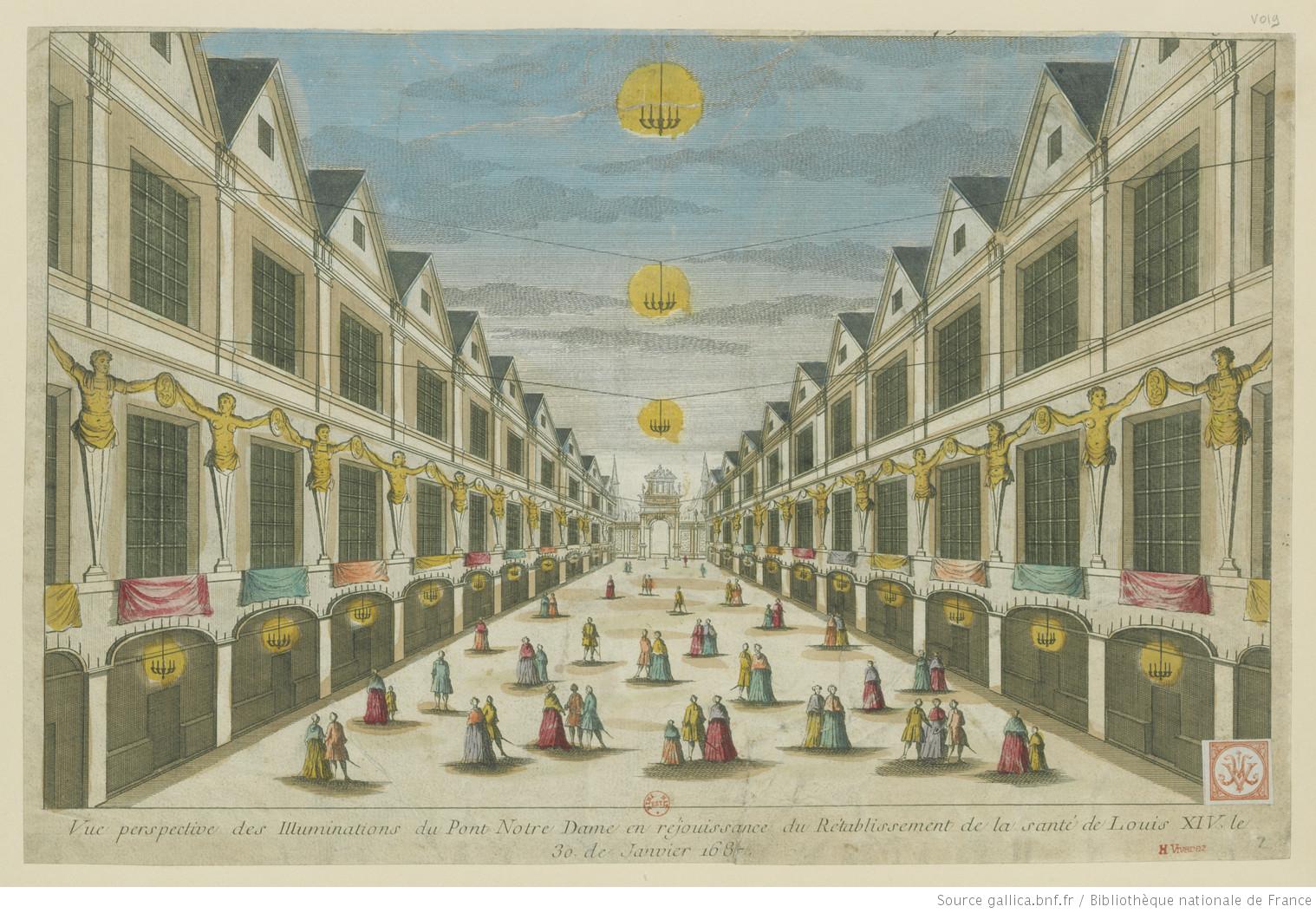 The demolition of houses will be ordered in 1786 as seen in this painting made by Hubert Robert, representing the second row of houses being demolished. In the background is the Pont au Change, whose homes will be destroyed a few years later.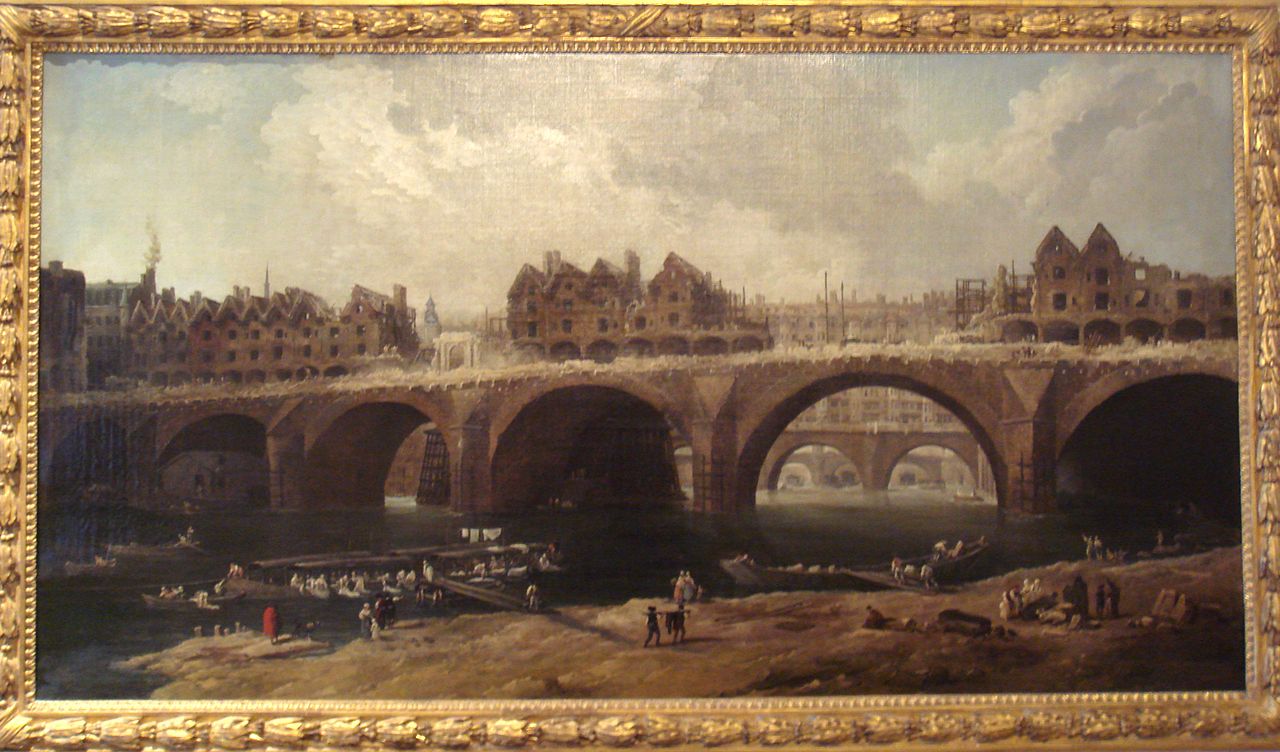 The fifth pont Notre-Dame
During Haussmannian works, the Bridge will be once again rebuilt in 1853 and refurbished – again! – in 1919, with only one 60m long metal arch to facilitate passage of vessels and the flow of the river.
The small part of the Island bridge located next to the City is a remnant of the 1853 bridge.
For nearly a century, the Pont Notre-Dame has not undergone new transformations. How much longer ?