Paris is a very old city. Among older residents are obviously some of its legendaries monuments as Notre-Dame de Paris or Saint-Germain-des-Prés Church.
But in the heart of the Latin Quarter, 5th arrondissement, another "Parisian" has been watching the city changes for more than 400 years. It is the oldest tree in Paris, you can see inside the Viviani garden.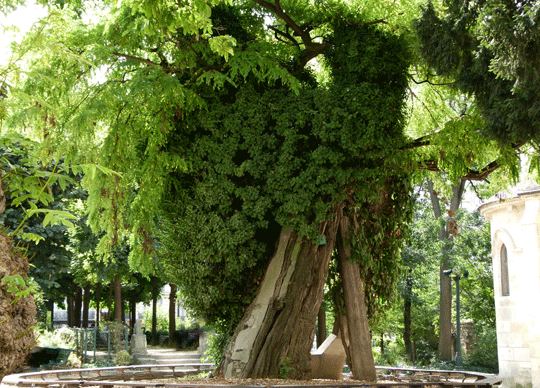 Close to Saint-Michel and the Ile de la Cité, Square Viviani is above all appreciated for the panoramic view of Notre-Dame de Paris it offers. But many people do not know that there is a Locust, called in French « Robinier », came from North America and planted in 1601.
This tree variety also bears in French the name of the man who introduced them in France, Jean Robin, King's botanist and arborist and director of the Jardin des Plantes (where you can also see a Locust planted in 1636)
In 2010, a circular bench was built around the tree to protect it. A good opportunity as well for visitors to enjoy the beautiful scenery in the shadow of this over 400 years old tree.
You will also notice that its leaning figure seems very worn. Although being wonky, this Locust is in great health! Cleverly concealed under a mass of ivy, a cement structure also supports the 15 meters high trunk, while the average height of Locust rarely exceeds 10 meters.
A venerable ancestor not to be missed during your walks in the Latin Quarter or the Île de la Cité !
Also remember when you visit the square to discover the nice church of Saint-Julien-le-Pauvre, an Eastern rite Catholic Church.