Paris is full of beautiful churches, famous for its architecture, history, or masterpieces they house. But for those who are looking for an alternative church visit, you will also find in Paris few unusual churches  for an original, and out of the ordinary, tour.
Church Saint-Serge de Radonège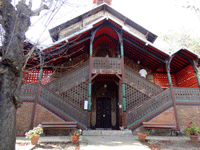 In the 19th arrondissement, a few steps from the Parc des Buttes-Chaumont, the Saint-Serge de Radonège Orthodox Church is an unusual building hidden at the end of a flowered path. Confiscated from the Germans after the Second World War, this surprising monument is not to be missed during a walk in the 19th arrondissement.
More information about Saint-Serge de Radonège church
Notre-Dame-du-Travail Church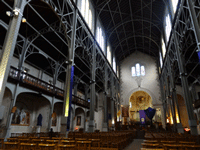 In the 14th arrondissement (Plaisance district), Notre-Dame-du-Travail Church ("Our Lady of work") is a unique example of social Catholicism in Paris. Built for the Universal Exhibition in Paris in 1900 in an area at the time exclusively populated by workers, it was built as a factory to remind them their daily labour.
More information about the Notre-Dame-du-Travail Church
Parish of Saint-Germain de Charonne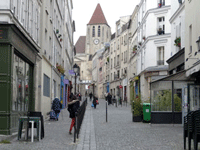 In the 20th arrondissement, overlooking the beautiful rue St-Blaise, this Parish is the only church in Paris (with the church Saint-Pierre de Montmartre, but closed to the public) to have kept its parish cemetery. It will also make uou feel, with the rue Saint-Blaise streetscape,  an old village atmosphere you won't find anywhere else in Paris.
Saint-Jean de Montmartre church
In the heart of Montmartre, Place des Abbesses, the church of Saint-Jean de Montmartre is the first religious building in Paris built in reinforced concrete. Inspired by Art Nouveau style, you will see curious stoneware decorations and ceramic beads, originals ornaments that had then never been used for sacred monuments.