Paris is full of secret streets, scattered all over the capital. Hidden in a boulevard corner or in an area we do not expect to find so beautiful places, often formerly inhabited by workers, they are a great testimony of history, and a breath of fresh airr away from the urban tumult.
Find out the most beautiful passages (not to be confused with covered passages), streets, and villas to discover during your walks.
RUE DES THERMOPYLES, 14th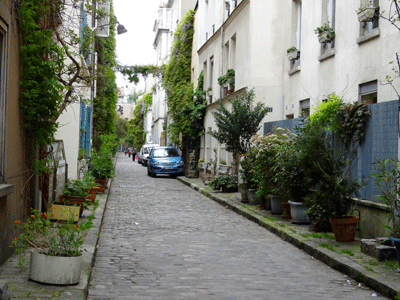 Probably one of the most beautiful hidden streets of Paris, perhaps because we probably do not expect to find it in the heart of the (unknown, but charming!) 14th arrondissement. Next to rue Raymond Losserand, it is an oasis of calm and greenery…
Metro: Pernety (L 13)
See also: walk in the 14th arrondissement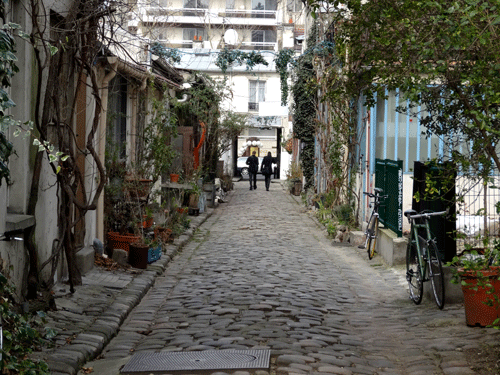 Rue Oberkampf, better known by Parisians to be a "drinking street", hides many secrets. Among them, the Cité Durmar, a pretty small dead-end bordered by workshops more or less dilapidated and full of flowers.
You will find all along the rue Oberkampf many hidden courtyards, the prettiest being Cité Durmar and Cité des Figuiers.
Metro: Ménilmontant (L 2)
VILLA DIETZ-MONIN, 16th
The 16th district has not the reputation of being the most bourgeois area of Paris for nothing. At the South of the arrondissement, in what we call the « Village d'Auteuil », you will find many Villas, private alleys filled with small beautiful houses. All are closed, but some are easily accessible, such as Villa Dietz-Monin, at the level of rue Parent de Rosan.
If you are an adventurer, try to enter the Villa Montmorency (home of Bolloré, Lagardère, Niels, Carla Bruni …). Good luck!
Metro: Porte de Saint-Cloud (L 9)
See also: Walk in the Village d'Auteuil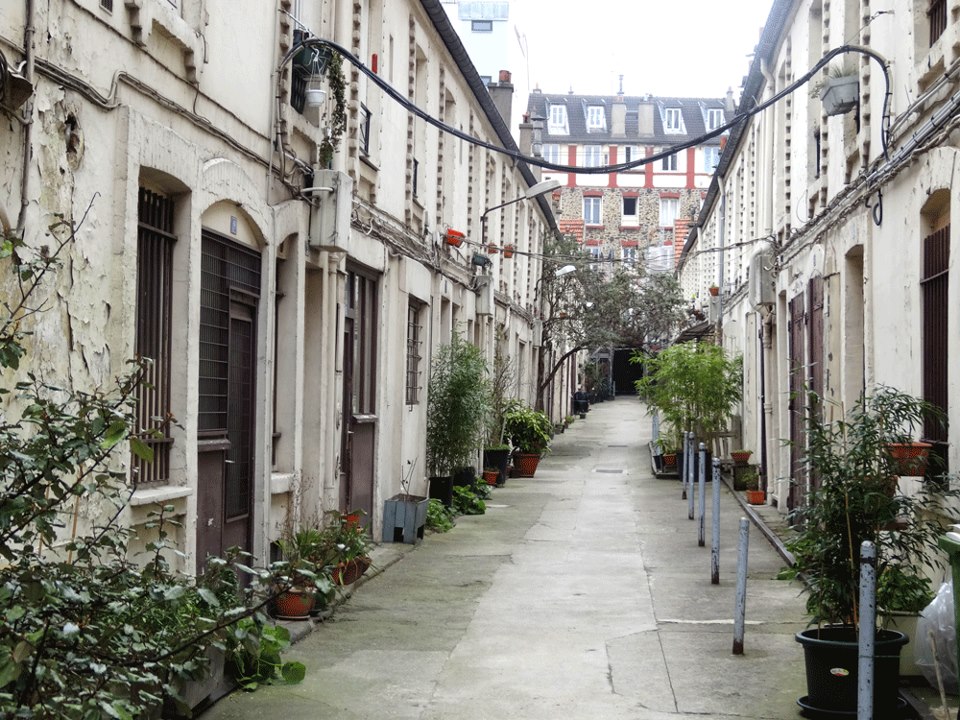 Avenue de Saint-Ouen, « La Fourche ». Places a priori where the uninitiated visitor does not go. And yet !
Standing in the middle of the hustle and bustle of the Avenue de Saint-Ouen is the Cité Pilleux, former workers street initially made of workshops on the ground floor topped by a dwelling. A street today unfortunately closed.
Metro: La Fourche (L 13)
Not far from Montmartre and the Montmartre Cemetery
See: Walk in Montmartre
RUE CRÉMIEUX, 12th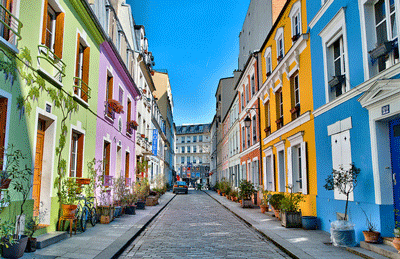 Not such a secret street, although Parisians themselves still do not know it. A few steps from the Gare de Lyon, rue Cremieux is one of the most beautiful and unusual street of Paris. With its colorful facades, murals and trompe l'oeil, it is just a wonderful place, and a treasure for photographers…
Métro : gare de Lyon (L 1 & 14) 
PASSAGE DU CHANTIER, 12th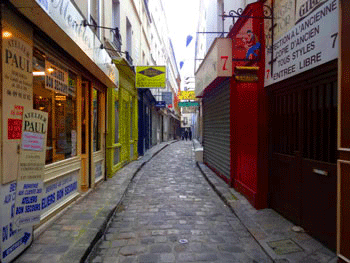 Rue du Faubourg Saint-Antoine, one of the oldest street in Paris, was the dominant district until the 20th of wood and furniture craftsmen. A tradition that Passage du Chantier carries on.
You will find in this narrow cobbled streets a lot of furniture stores, witness of the long ago know-how.
Métro : Ledru-Rollin (Line 8)
Also see : Passages and courtyards of rue du Faubourg Saint-Antoine
VILLA LÉANDRE, 18th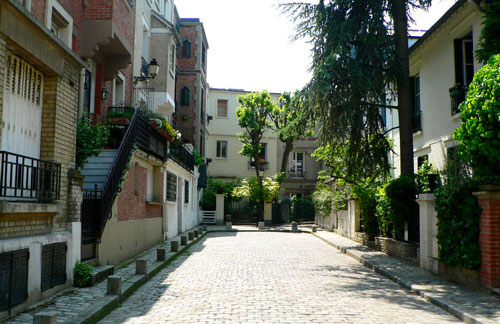 At the heart of Montmartre, next to the Avenue Junot (the chicest street of Montmartre), the Villa Leandre is a beautiful haven that often escape from Montmartre tours. A special place that does not need more commentaries!
Métro : Lamarck-Caulaincourt (L 12)