Difficult to imagine today, strolling the chic rue de Chazelles, that one day in these place rose the statue of Liberty, overlooking the roofs of the district. It is indeed at number 25 of this street, in a former foundry, that the mythical statue was made, before crossing the Atlantic to reach its base New York.
Liberty illuminating the 17th arrondissement
Gaget Gauthier et Cie was the largest foundry and boiler factory in Paris. Located rue de Chazelles, it was particularly known in 1873 by restoring the Vendome Column, destroyed during the Commune of Paris. An extraordinary project that would be overtaken by a new order: a statue offered by France in the United States to celebrate the centenary of their independence, and thus mark the friendship between the two countries. An idea that we owe to the politician Édouard de Laboulaye.
The sculptor Auguste Bartholdi, who had gone to New York and had already spotted a small island off Manhattan capable of hosting the monument, decided to make the plans. A subscription was launched to finance the construction of the statue, and, to accelerate and increase the gifts, the hand of the Liberty holding the torch is presented at the Philadelphia Exposition of 1876, head to that of Paris in 1878.
Bartholdi entrusted the design of the frame, whose spectacular size and location on an island exposed to the winds posed many technical problems to Eugene Viollet-le-Duc. Dead before being able to complete his work, he was replaced by Gustave Eiffel, who rethought the project and realized a completely metallic interior structure.
A colossal enterprise, discovered day by day by the neighborhood of the Rue Chazelles, seeing Freedom emerge from the ground, and its body emerge over the plain Monceau. In 1883, the discovery of the statue was also one of the greatest curiosities of the capital, and the newspapers invited the public to a walk around the Rue Chazelles.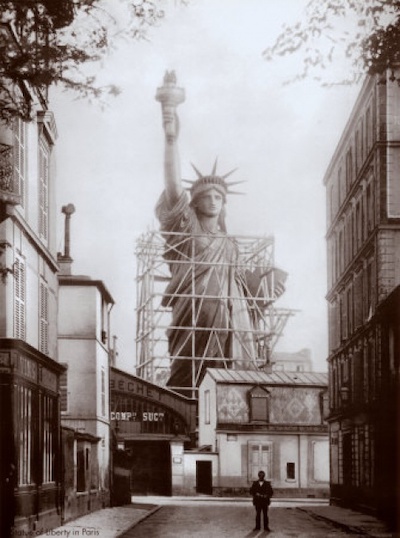 Completed in 1884, remained to make travel, which was not a trivial matter given its size! 46 meters high, including 5 meters for his only hand, a mass of 225 tons, and a head big enough to accommodate 40 people.
The statue was dismantled in 350 elements distributed in 210 cases, of which 36 for the rivets and bolts, then transported by train from the station Saint-Lazare to Rouen. All was loaded on Isère, a French frigate, the French State having borne the cost of crossing the Atlantic, the only financial contribution of the government in this Franco-American cooperation.
Arrived in New York on June 17, 1885, the Statue of Liberty was rebuilt in four months, and inaugurated on October 28, 1886. Ten years late, but an eternal symbol of Liberty facing East, that is to say to France … and rue de Chazelles!