The 9th arrondissement, and more particularly the New Athens district, is a delight for anyone who loves architecture. Built in the 19th century the architects were inspired by Antiquity, especially after the discovery of Pompeii, to build sumptuous buildings and mansions for writers, musicians, painters and bourgeois.
Between the Church of the Trinity and the Place de Clichy, the rue Ballu is one of the finest examples. A few hundred meters where a hidden villa, mansions, green gardens and ornate facades come one after another.
You can explore rue Ballu in two directions, from rue de Clichy or rue Blanche. It is made here from the rue de Clichy.
The rue Ballu was built during a vast real estate operation which destroyed in the 1840s an old bourgeois house, the Pavilion La Bouëxière, to replace it by the streets of Douai, Vintimille, Calais and Ballu. A name that pays homage to the architect Théodore Ballu, to whom we owe in particular the reconstruction of the Hôtel de Ville in Paris, and whose astonishing neo-Renaissance style mansion is located a few meters away, at n ° 78 rue Blanche.
Enter rue Ballu at the corner of rue de Clichy
Notice the beautiful doors and ornaments of numbers 31 & 32.
On your right, at number 23, enter the chic and calm Villa Ballu, a private road created for wealthy clients (accessible during the week only). The facade to the left of the entrance has a magnificent Art Nouveau decoration.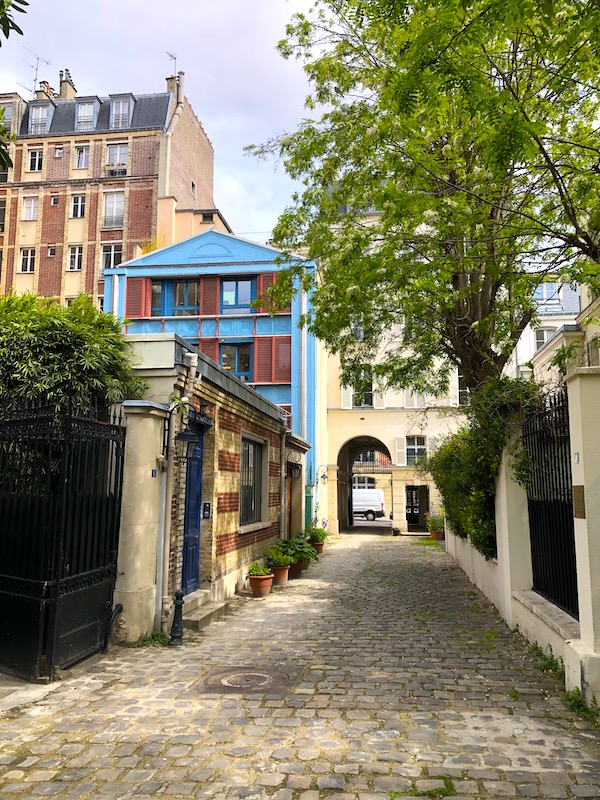 As you leave the Villa Ballu, admire the neo-Flemish facade in front of you, rather rare in Paris, at number 28. It was originally a mansion built in 1891 for the painter Charles Wislin (1852-1932) .
Go to number 19 (the wonders never stop!) and discover a beautiful three-story house set back from a courtyard. Just opposite, number 24 presents behind a gate a magnificent mansion with a double entrance and a Mansart roof.
Walk forward to number 13 and admire the magnificent facade of the building, adorned with stained glass and caryatids.
Continue until 11bis. Here is the Hôtel de Blémont, seat since 1932 of the Society of Dramatic Authors and Composers (SACD), created in 1777 by Beaumarchais. Built in 1858 for a wealthy banker, this magnificent Mansion was bought by the poet Émile Blémont (1839-1927).