Between rue Saint-Antoine and the Seine, the Marais is full of sumptuous mansions, vestiges of the time when this area housed a royal residence: the Hôtel Saint-Pol. Among them, the Hôtel de Fieubet is, if not the most beautiful, without a doubt the most original. Transformed in the 19th century into a style that could be described as "neo-baroque", for some it is an offense against the original building, for others a sumptuous witness of creative freedom. In any case, it leaves no one indifferent …
A short history
Until 1622, Paris depended on the archbishopric of Sens. The archbishop, who spent more time in the capital than in Burgundy, had a residence located on the Quai des Célestins, which King Charles V bought to build a royal residence, the Hôtel Saint-Pol.
Royal residence and seat of government until the beginning of the 15th century, it was divided into lots and sold by François 1er. After various owners, it was Gaspard de Fieubet, an advisor to Queen Marie-Thérèse of Austria, wife of Louis XIV, who bought part of the land in 1676.
The transformations of the Hotel Fieubet
The All-Paris then admired this private mansion, perhaps refurbished (doubts persist …) by Jules Hardouin-Mansart, in particular the sphinxes that adorn the entrance, who are among the first in Paris.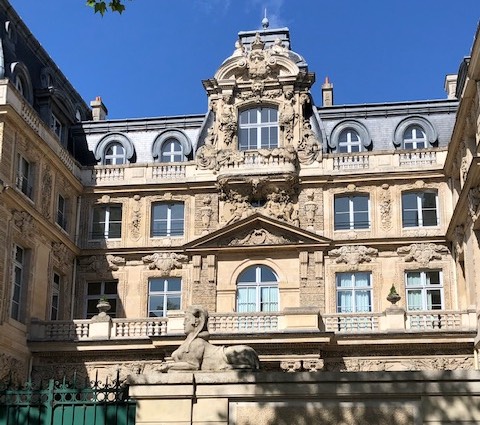 But in 1850, an entrepreneur little concerned with the beauties of architecture bought it and transformed it into a large sugar refinery, where the fireplaces were mixed with the original decorations. It was finally the Count of Valletta, businessman and founder of the National Assembly newspaper, who will definitely transform it into an Italian-Spanish baroque look by adding caryatids, statues, and ornaments. Due to lack of money, he even had to give up certain projects … Considering the profusion of sets, what would it have been!
The entrance at number 2 is a perfect example of this busy and rather unusual style.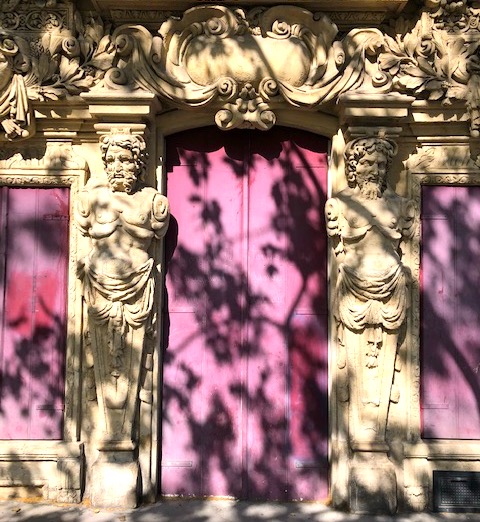 The Hôtel Fieubet is owned by the private school Massillon since 1877. What a beautiful building to receive an education there !