At the corner of rue de Jouy and rue de Fourcy, in the 4th arrondissement, you can see a sign representing a grinder, an old craft that has almost disappeared today. One of those pleasant discoveries that Paris offers during walks, so numerous in the Marais district.
Today disappeared from the landscape of the city, the grinder was one of those trades which, in addition to their practical functions, embellished the life of the city and gave life to its streets. A picturesque image of the Paris of yesteryear that can be found on the facade of a building in the Marais.
Very old profession, the grinder was a craftsman, most often itinerant, who sharpened sharp objects. He traveled with a small cart on which was fixed a grindstone which he operated with a pedal. If it was possible to have your own grindstone to sharpen in the country, it was impossible in the city. Strolling through the streets of Paris, the grinder therefore offered his services to housewives, butchers, barbers, traders … In short, all those who used sharp objects in their daily life and had to take care of them.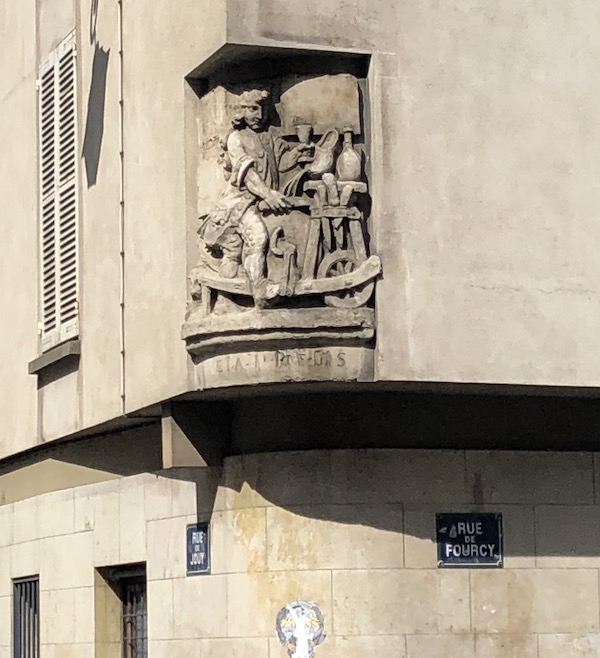 Dressed in Louis XV costume, the grinder represented on the Marais building is at work, while water is flowing over the knife to prevent the blade from heating too much. Busy sharpening his tool with his right hand, we can see that he is holding in his left hand … a glass of wine. The bas-relief originally decorated a wine and spirits merchant called "Au Gagn-Petit", which was the other name of the grinders.
See also: the oldest sign in Paris
Removed in the 19th century when part of the rue de l'Hotel-de-Ville was destroyed, this one, dated 1767, is now exhibited at the Carnavalet museum. It is a copy of this sign that you can see at the corner of rue de Jouy and rue de Fourcy. To discover during a walk in the Marais.