The oldest houses in Paris offer a real journey back in time, where each architecture tells a story of the capital. 
N° 11 and 13 rue François Miron
In the Marais, you can discover two gabled houses typical of old Paris, dating from the 15th century. That have been entirely restored in 1967 to make reappear the timber frames, the medieval style shops as well as its gables.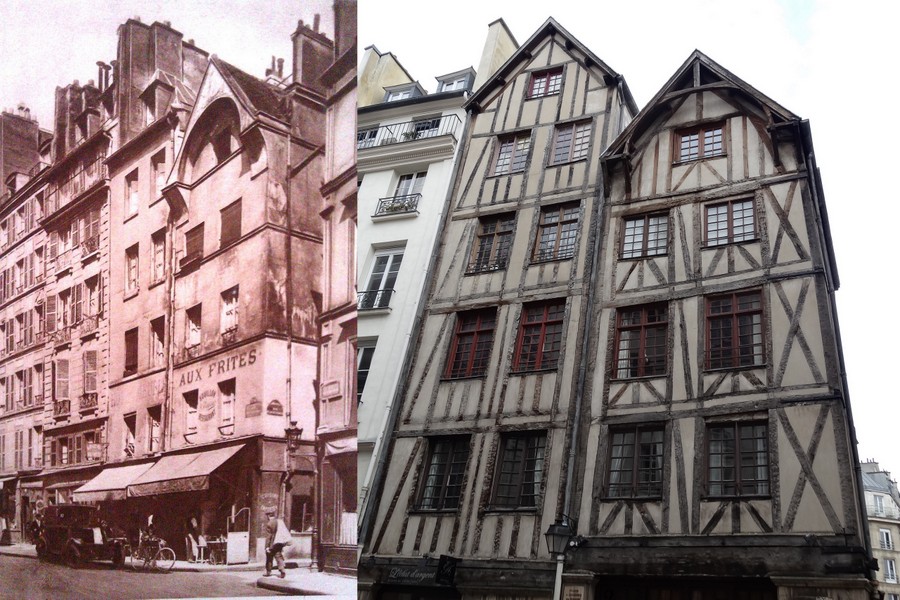 After the London's gigantic fire in 1666, the Parisians had to cover their facades with plaster, and gables were forbidden. Hidden behind a plaster for 3 centuries, these facades are today a superb testimony of medieval Paris.
3 rue Volta 
Another great example of an old building : 3 rue Volta, dating back to the mid-17th century.
51, rue de Montmorency
Not far from rue Volta, 51 rue de Montmorency is officially recognized as the oldest house in Paris. Built by Nicolas Flamel in 1407, who, according to legend, would have discovered the secret of the philosopher's stone, and transformed lead into gold.