In the heart of the Marais, there is no doubt that the lovely church of Saint-Paul-Saint-Louis has been home to a revolutionary message for more than a century. An indelible trace that, along with the painting of Delacroix, is one of the hidden treasures of this church.
On the second pillar with box after entering the church, you can indeed see a curious message almost erased: "French Republic or death" ( "République française ou la mort". )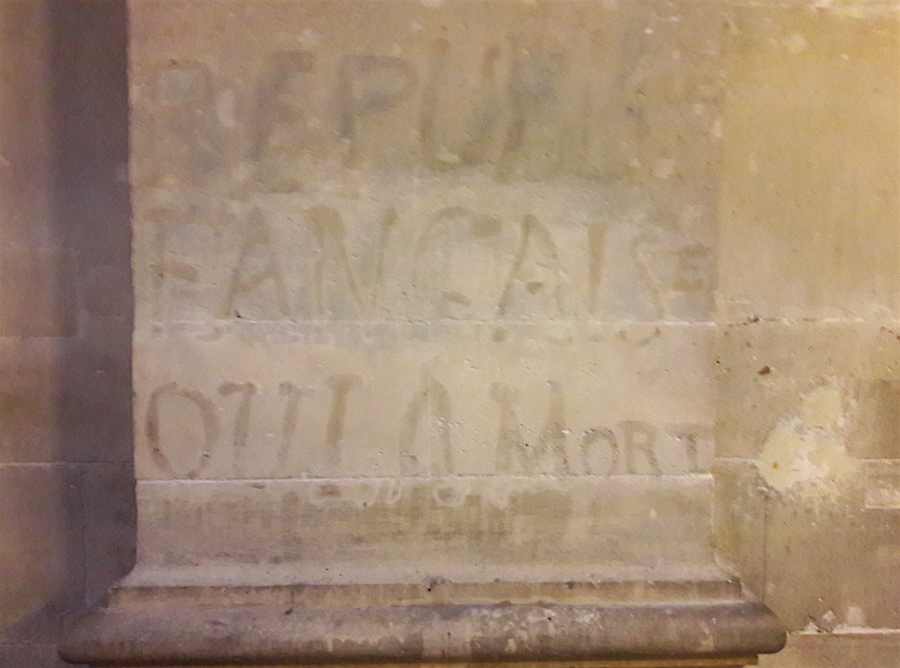 We do not really know much about this graffiti, except that it was written during the Paris Commune, probably the first days of the "bloody week" (May 21-28, 1871). When the Versailles troops entered Paris to put an end to the insurrection of the communards, one of them would have written this message. If history does not know if the author has survived, this trace shows in any case how much the idea of "Republic" could be strong in the 19th century.
You will also notice that the pillar is clearer at the registration level. This is due to the many frictions the stone has had to erase the message. Despite all these attempts, this declaration of funeral love to the Republic has never disappeared. On the contrary, they have made each letter even more visible, witnessing a message which from its inception must overcome the upheavals of time.