In the heart of Saint-Germain-des-Près, the very pretty Cour du Commerce-Saint-André is a symbole of old charming streets in Paris. A pedestrian way, irregular paving stones, old shops … A street that is also full of memories, whose history was strongly marked by the French Revolution.
La Cour du Commerce-Saint-André and the guillotine
At n° 9 of the Cour du Commerce-Saint-André was the workshop of the artisan Tobias Schmidt, pianos maker. It is here that was manufactured and experienced the guillotine, in 1792.
In order to avoid unnecessary tortures and to make every citizen equal in matters of execution, the Assembly adopted from 1789 the principle of decapitation as the only capital punishment. The instrument remained to be found, and its conception was entrusted to Joseph-Ignace Guillotin, deputy of Paris, and the physiologist Antoine Louis.
They employed Tobias Schmidt, a German engineer whose workshop was at number 9 of the Cour du Commerce-Saint-André, to construct a prototype. It is there that took place in April 1792 the first experiment of the guillotine, tried out on… sheep.
After a test on human corpses at the Bicêtre prison, the first execution with the guillotine took place on 25 April 1792.
L'Ami du Peuple printing
Just opposite, at n° 8, was the printing office of L'Ami du Peuple, the most influential – and followed – political newspaper of the French Revolution, created and published by Jean-Paul Marat. 
Other places to see Cour du Commerce-Saint-André
Other notables places are to be discovered. The first is the restaurant located at No. 4, inside which you can see the vestige of the Philippe-Auguste Wall. You can also see a part of the courtyard surmounted by a glass roof, built in 1823 as the covered passages. Here is also the mythical cafe Procope, founded in 1684.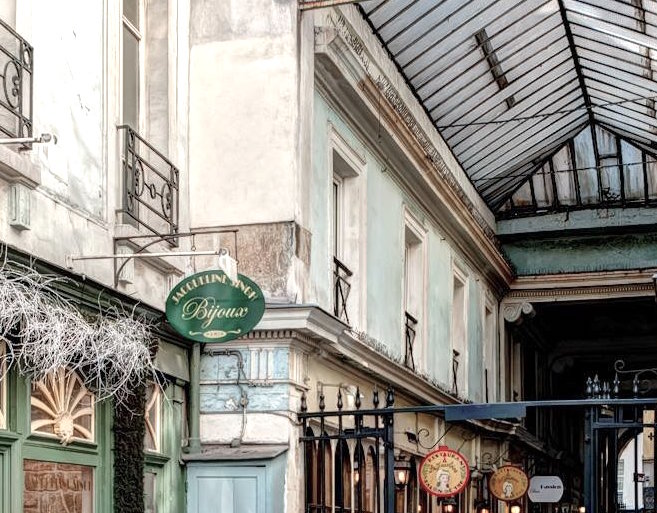 A street full of historical memories !