It doesn't sound like that, but Paris is a hilly city! Reliefs which certainly do not culminate at exceptional heights, but which allow pretty discoveries, and very beautiful views. Among all these hills, which is the highest in Paris?
A subtlety exists regarding the highest point in Paris. A distinction is made between "public domain" and "private domain", in other words between points freely accessible to the public and those which are not. In the private domain, it is in Montmartre that the highest point of the capital is located, culminating at 130.53 meters above sea level at the Calvary cemetery, nearby the Saint-Pierre de Montmartre church. But this cemetery, is only open to the public one day a year: November 1st.
In the public space, it is not to Montmartre that you have to go to try to touch the sky, but to Belleville ! At the entrance to the Belleville cemetery (40, rue du Télégraphe), a small plaque mentions that "this altitude mark located at 128.508 meters above mean sea level, is the highest on the public domain of the city ​​of Paris".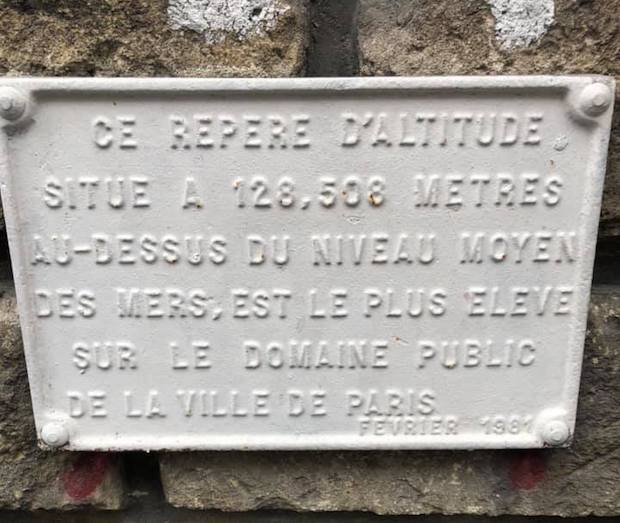 Still in the public domain, Montmartre rises to… 128.21 meters. Only a few centimeters separate the two buttes, but it is in Belleville that the highest point in Paris is located!
Paris Hills
There is no exact definition of a hill in France, which in may have been called "mount" (mont in french) or "mountain" without really having its characteristics. This is why we find these terms in the name of Montmartre, the Buttes-Chaumont, or the Sainte-Geneviève mountain, although it is the lowest of the Paris hills !
However, we generally consider a hill when the hump is between 50m and 600m. This is the case in Paris for Montmartre, Belleville, the hill of Ménilmontant (108m), the Buttes-Chaumont (103m), the butte Bergeyre (100m), the Père-Lachaise (former Mont-Louis, 90m), the hill of Montsouris (78m), the hill of Passy (71m), the hill of Charonne (69m), the hill of Chaillot (67m), Montparnasse (66m), the Butte-aux-Cailles (63m) and the mountain Sainte-Geneviève(61m).