It is not the prettiest of covered passages, nor the most welcoming. And yet, it is a historical high place of the capital. Built at the end of the 18th century, the Passage du Caire is paradoxal since its origins. Pioneer of Parisian passages, it has never attracted visitors. A lack of notoriety that its historical value does not fill, which can be explained by a single  reason since its inauguration: not flashy enough.
Built in the popular district of rue Saint-Denis in 1798, the promoters had no other ambitions with this passage than offer the inhabitants a novelty born a few years earlier in the gardens of the Palais-Royal : the covered stroll.
But unlike the Passage des Panoramas, which will be inaugurated a year later, or the Galerie Vivienne, the Passage du Caire has never presented sumptuous decorations. No mosaic on the ground, bas-reliefs on its walls, or beautiful signs. Simply lined with merchants and craftsmen of all kinds, it was a popular place protected from the vagaries of the weather. A rigorous version of the covered passage in short, which only applied its fundamental principles.
Not expensive enough, it will be ignored, even despised, when the large glass galleries will grow all over Paris. It will just attract the curious who come to discover this new Egyptian-sounding building. But passing the facade of the building adorned with pretty effigies of the goddess Hathor located on the Place du Caire, the charm waned… Which, it must be admitted, is still the case today!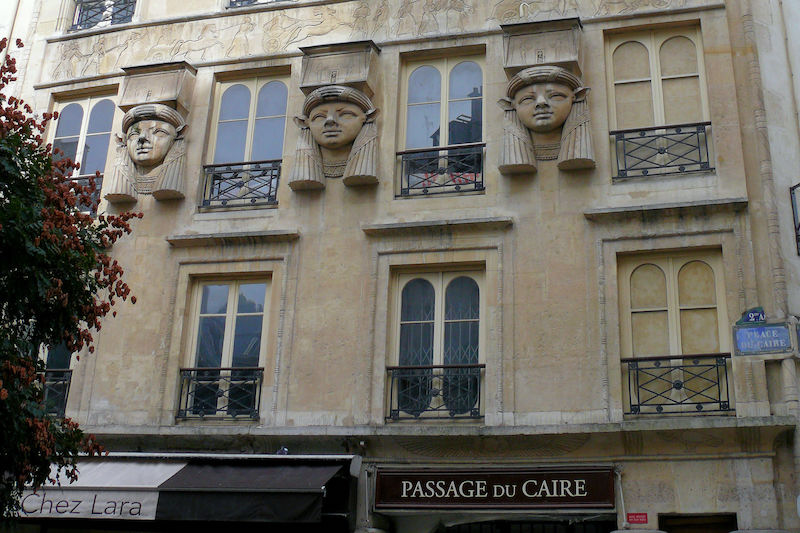 Fallen into oblivion in the 19th century, it was threatened with destruction. Located in the heart of the Sentier, a historic ready-to-wear district, you will now find many shops for professionals.
It is no less interesting to discover if you walk around rue Saint-Denis. Since the destruction of the Passages du Palais-Royal and the Galerie Feydeau, which preceded it, the Passage du Caire is indeed the oldest covered passage in Paris.