To exuberance and fancy of Art Nouveau style followed between the two world wars two architectural movements with clean and rational forms : Art Deco and Modern Movement. Two styles that favored shapes harmony and functional accommodations.
City of Boulogne-Billancourt, bordering the 16th arrondissement, has many villas and Hôtels particuliers of these two movements, built by the greatest architects as Le Corbusier, Mallet- Stevens, Courréges, Perret brothers or Terry. A nice stroll for architecture lovers.
The walking tour starts Porte de Saint-Cloud (line 9, 16th arrondissement). Go ahead Route de la Reine, then turn right onto Rue de la Tourelle . You enter Boulogne-Billancourt.
60-62 rue de la Tourelle, you can see a building complex made by Constant Lefranc . An architecture that uses for its facade concrete and brick, iconic materials of Art Deco.
Go rue du Belvédère. Lined with villas and mansions, this street is one of the most stylish in Boulogne- Billancourt. Many were low cost artists workshops.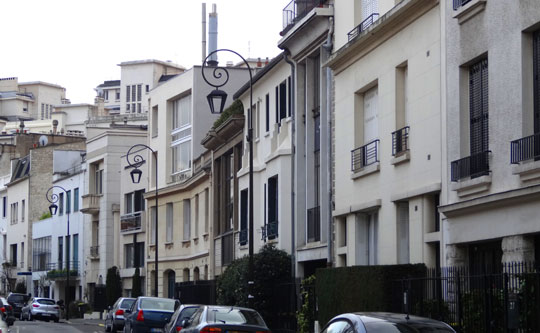 Do not miss : No. 9, the large window and the pergola cement. Opposite, n° 6 to  n° 12, the style and materials of villas remind a pretty English street. N°21 is a wonderful artist studio built by the Perret brothers for the sculptor Dora Gordine.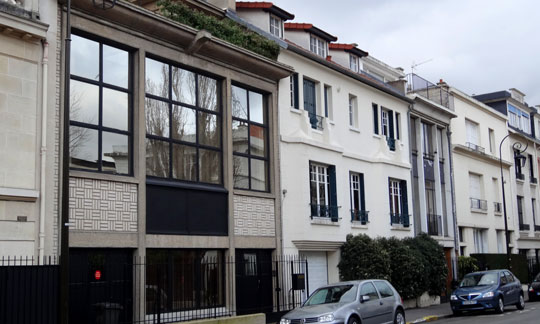 Turn right onto Rue du Pavillon. In this street you will find two great Hôtels with different styles. One at n°10 , the other at the end of the street, n°1.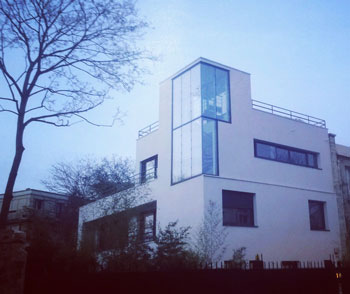 There, you also have a nice view over two sport stadiums : the Parc des Princes (football) and the Jean Bouin stadium (Rugby – built in 2013) .
Go ahead Marcel Loyau Street as far as Avenue Robert Schuman.
Avenue Robert Schuman are several huge villas hidden behind gates.  Have a glance to the n°19 bis, where had lived André Malraux from 1945 to 1962. You can find other amazing villas at n° 22, 24 and 26.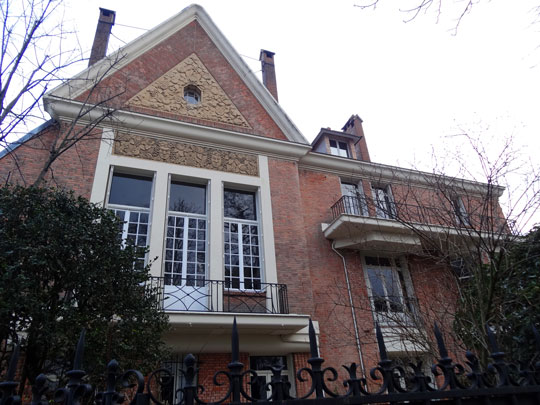 Take then rue Salomon Reinach and walk to Place Denfert-Rochereau, then continue ahead rue Denfert -Rochereau. N°13, rue Denfert-Rochereau is an amazing and unusual house.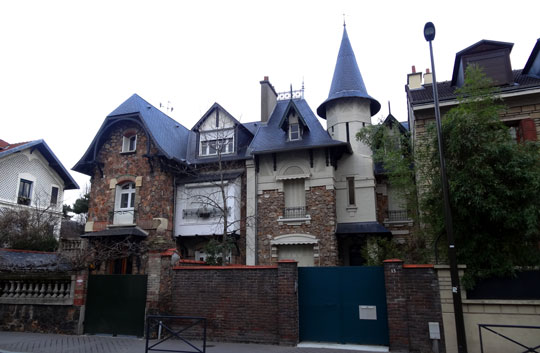 Turn left rue Claude Monet and walk as far as rue Gambetta. Among the most beautiful buildings, notice the mansion of the architect Jean Niermans at n°3, rue Gambetta, or the Hotel at n°5, an original mix of modern and neoclassical architecture.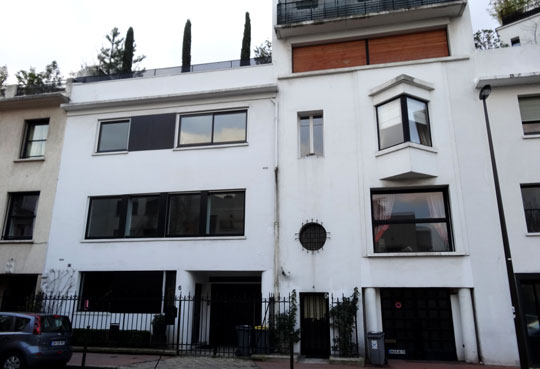 At the end of the street, from the roundabout, admire the painter Alfred Lombard's Hotel. Bought in 2007, it is now a historical monument and has been divided into three apartments.
Take rue Denfert-Rochereau. The numbers 2, 4 and 6 form a nice triptych of modern architecture. The villa n°6 is the work of Le Corbusier. 
End of the ride. You can go back to Porte de Saint-Cloud walking straight rue Denfert-Rochereau . At the level of Porte de Saint-Cloud, you can continue your architectural discoveries with the Guimard and Art Nouveau walking tour.