The Saint-Sulpice church is largely unknown by the general public, but is nevertheless one of the most beautiful churches in Paris. Dominating the charming place de Saint-Sulpice, in the core of Saint-Germain-des-Prés, it is said the edifice was built during the 17th century, but for multiple reasons (amongst others the lack of money…) its construction lasted as a matter of fact until 1870.
But the real history of this church remains largely unknown, because we know that another church was at this same place since the 12th century, which then was redeveloped, extended and finally destroyed to become the church it is today.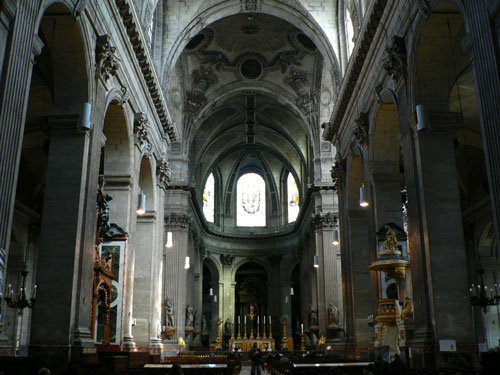 We recommend you to visit the interior outside service hours, because the access during that time is limited (9 a.m., 12.05 p.m., 6.45 p.m., sat 9 a.m., 12.05 p.m., sun 9 a.m., 10.30 a.m., 12.05 p.m., 6.45 p.m.) and you wouldn't therefore be able to see the Lady chapel, in the back of the church, which is one of the marvels of this building. Its marble columns, with a rococo cupola above, contrasts with the architecture of the rest of the church made mostly of stone. The statue of the Virgin inside the chapel, piece of Jean-Baptiste Pigalle, is highlighted by an ingenious play of light.
Amongst other great names in this church you will also find a few murals signed by Eugène Delacroix. Other elements that should attract your attention are the great organ, the nave, the pulpit made of oak and marble only, and the gnomon, inlaid across the church floor, which was installed during the 18th century to determine Easter day. If you want to, come to visit and experience during daytime, when the sun is at its highest.
After the visit, step out on the peaceful and very beautiful place Saint-Sulpice. The big fountain situated in its centre is a work of Louis Visconti, which was put in this spot in 1847 in honour of four great men of the cloth and letters from the 17th century (Bossuet, Fénelon, Fléchier and Massillon). You will also see on this square the tow council of the 6th arrondissement, the centre of public finances (former seminary of Saint-Sulpice) and a few private townhouses with very chic stores.