Poor Geneviève. Welcoming the guests entering the capital, she is ignored by the Parisian who, like Notre Dame de Paris, only see that the gross and straight back. A sculpture that even its author, Paul Landowki, despised, heartbroken by the order that he had never really accepted.
But this culture raising up on the pont de la Tournelle, is perhaps one of the most important symbol of Paris: Genevieve is the Patron Saint of the capital.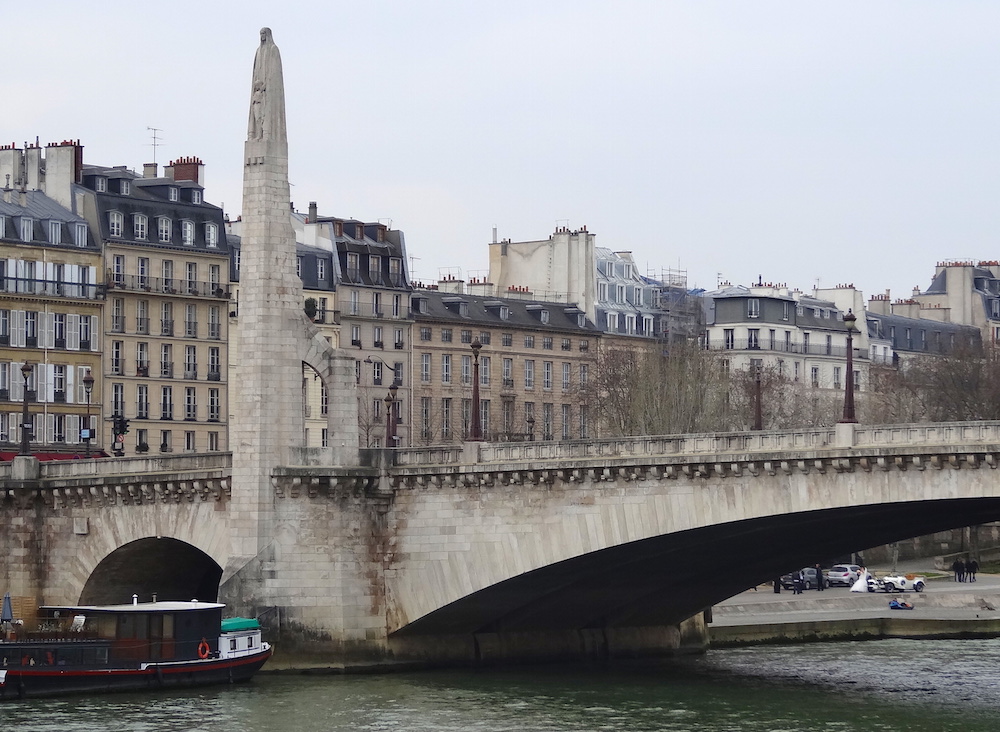 The Pont de la Tournelle
Built in 1928 on the remains of wooden bridges collapsed, the Pont de la Tournelle bridge takes its name from an old tower of Philippe -Auguste Wall which stood on the Left Bank.
The project, to emphasize the asymmetry of the bridge, planned to sit on top of the southern stack a statue of St. Genevieve. A work entrusted to Paul Landowki, French sculptor who realized a few years later one of the most famous statues in the world: Christ the Redeemer in Rio de Janeiro.
While Bridge plans are validated, Landowski questioned the direction of St. Genevieve, he would like facing Notre Dame. After long negotiations, the initial project will be ordered. To the great displeasure of the artist, a notes found attesting it :
(14/08/1928): "After the Bridge Tournelle […] Still bad impression. This is a completely botched work. "

(20/06/1943): "How sorry I am, when I stroll around, to see that awful pillar of my poor saint Genevieve! ".

(Landowski – sculptural works – Michèle Lefrançois)
The sculpture depicts Geneviève protecting a child – Paris – child protecting himself a nave, historical symbol of the capital.
The legend of St. Genevieve
Born in 423 in Nanterre, Genevieve was the daughter of a city magistrate. Fervent believer from an early age, she recovered after her father's death this charge and move to Paris. When she was 20, she will be ordered by the Bishop of Paris "Consecrated Virgin".
In 451, Attila and the Huns crossed the Rhine to invade Gaul. They plunder Metz, Reims, and head to Paris. Parisians, scared by the legend of the barbarian warrior, decided to leave the city. Geneviève,  on the contrary,  urges Paris to fight.
Miracle, Attila and his troops finally go through Troyes, then head to Orleans. Paris has been finally saved by the prayers of the young and courageous Genevieve…
History also tells that Attila was not interest in Paris, but wanted to besiege the rich and big city of Orleans. But who cares, a legend was born!
That's why St. Genevieve still looks at the east, towards Attila troops who miraculously bypassed Paris. To the great misfortune of Paul Landowski …