In the 20th arrondissement, a pretty little garden created in 2019 hides a rather unexpected treasure: the mascarons that once adorned the Pont-Neuf. An original decoration which adds to the many curiosities of this garden built on the site of a former factory closed in 2005.
Built on several levels, following the sinuous reliefs of the hills of Belleville and Ménilmontant, the Petites-Rigoles garden recalls by its name a water supply system created in the Middle Ages to supply the fountains of the capital. Below the garden is visible the old lookout of the Petites Rigoles, which made it possible to control the quality of the water.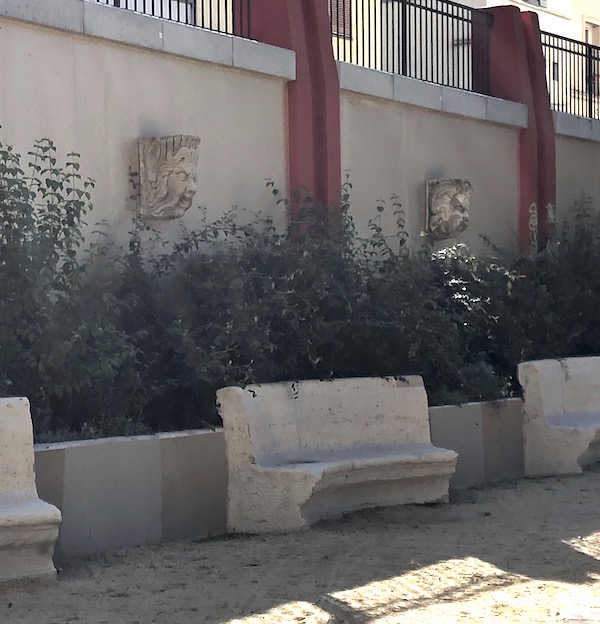 On the wall are also visible stone masks, to say the least, original. They are mascarons, grotesque or fantastic bestiary with a human figure, traditionally used in architecture in front of doors or on fountains to ward off bad luck or deflect evil influences. The most famous of Parisian mascarons can be found on the Pont-Neuf, which has nearly 380!
These are also some of these Pont-Neuf mascarons that can be seen today in the garden of Petites-Rigoles. The stone seats also come from the oldest bridge in Paris.
It is not uncommon for mascarons washed up in the Seine to have been found. Most often following renovations, which apparently do not go without some collateral damage … The most recent was recovered in 2014 by the river brigade during training in the Seine. If they will generally join the collections of Parisian museums, a new recycling for these lost heads has been thought of with the Jardin des Petites Rigoles. And that's a great idea!
To discover these Pont-Neuf mascarons, there is therefore the Carnavalet museum, but also Ménilmontant!