If celebrities are numerous at Père-Lachaise, those who have fallen into oblivion are just as many! This is particularly the case of Hubertine Auclert, an important figure in French feminism, who fought all her life for the right to vote for women. Buried in the Père-Lachaise cemetery, her grave goes rather unnoticed. Not easy to attract attention when you are facing a monument like that of Honoré de Balzac… A life in the shadow of men.
Born in 1848 in Allier from a republican family, Hubertine Auclert lost her parents as a teenager. Having become free and independent thanks to a substantial heritage, she moved to Paris after the fall of the Second Empire. The young Third Republic, dominated by monarchists, conservative republicans and the Catholic Church, does not grant importance to women.
The birth of feminism
Hubertine Auclert joined the Association for Women's Rights in 1873, created by Léon Richer, another forgotten figure, nicknamed the "father of feminism". In spite of a common project of emancipation of the woman, which wanted the correction of the Napoleon Code which made of the woman a minor for life and a person subjected unconditionally to her husband, the discrepancies to succeed were numerous. Partisan of radicalism, she considers that only disobedience, provocation and insolence can help women in their struggle.
A precursor, since these principles were at the base of of action of the suffragette, movement that appeared at the beginning of the 20th century in Great Britain. The Association for Women's Rights became in 1883 the Society for the Suffrage of Women. While her feminist contemporaries militated for equal civil rights, Hubertine calls for total equality, therefore political, calling on Republicans not to flout revolutionary ideals.
Militant acts
In 1880, despite the ban, Hubertine Auclert ran on the electoral roll. Government refusal. She continues to make headlines by sneaking into wedding ceremonies and unleashing boos with her friends as the mayor reads the article stating that a woman owes "submission and obedience to her husband." She founded a newspaper (La Citoyenne, 1882 – 1891), and after her eviction from the electoral lists began a tax strike, considering that if the administration excluded women from the right to vote, then they should also be excluded from taxes.
She stood for the legislative elections in April 1910, once again refused. She then calls on women to boycott census. With a relentless argument: "if we don't count, why are we counted?".
Among her many talents, Hubertine Auclert had a sense of the catchphrase !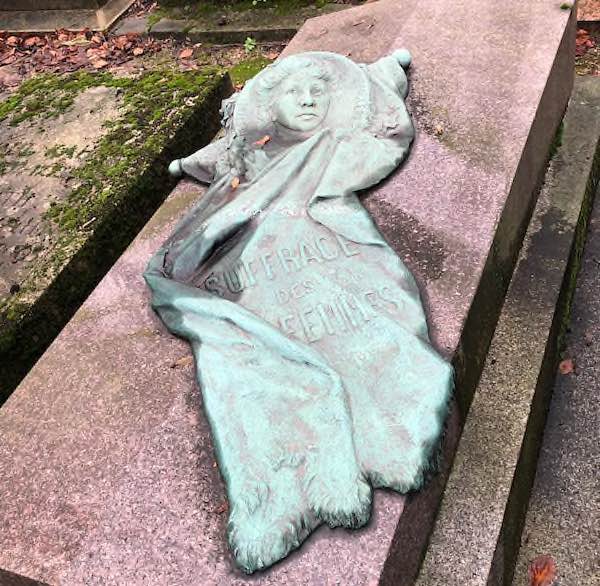 Died in 1914, she will never see the outcome of her struggle (right to vote granted in 1944). She undeniably contributed to it, to which her tomb in Père-Lachaise (49th division) pays homage with the discreet inscription "suffrage des femmes".