In the 12th century, the capital, and more particularly its town centre, constricted around the old Place de Grève, was a confused assembly of narrow, winding and unpaved streets. The square itself was quite different from today. Much more extensive, there was not yet an official building for the municipality, and its sandy terrain sloping gently towards the Seine hosted an overflowing commercial activity.
An animation that was fatal in 1131 to the future King Philip.
The Prince and the Pig
To establish the dynasty, which the wars of succession with Norman England made fragile, Louis VI had all his loyal vassals recognize his eldest son Philippe as successor. A legitimacy supported by the character of the prince, courageous and brave in war, and faithful to the Church.
On October 1, 1131, he entered Paris by what is now Rue Saint-Antoine, skirted the Saint-Gervais quarter, and plunged into the meanders of the medieval streets and their teeming activity as the Place de Strike. Finding a narrow street clear of passage, he hurried on his horse. But at this moment a pig, which was digging in the mud to feed on human activity, took fright and, wanting to run away, threw itself between the horse's legs. Which took fright in its turn and threw Philippe into the air, rearing up. The prince knocked his head against the stone of a house.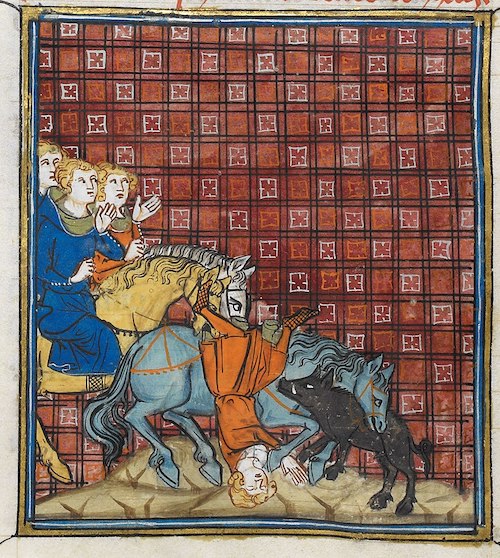 Victim of a rupture of the vertebrae of the neck, he died in the night.
An event that had two major consequences. The first was an ordinance that prohibited the wandering of pigs in the streets of Paris. The executioner had the right, if he came across a wandering pig, to cut off its head and take this piece away for his own use. The second that the brother of Philippe, second son of the king, was in the process crowned and crowned, and will reign after his father under the name of Louis VII. His son will be Philippe Auguste.
The entire district disappeared in the successive enlargements of the Hôtel de Ville and its square. History will remember that a pig probably changed the destiny of France.