During your visits to the Louvre Museum, takea walk through the Cour Carrée. A jewel of Renaissance architecture French classicism.
It is indeed in this place that the Louvre was born, in the 12th century, when Philippe-Auguste decided to build a wall all around Paris. Then, kings succeeded one another to transform it into a royal residence. But how to know whose sovereign is at the origin of the monument? Easy ! By tradition, and to leave a trace, the kings engraved in the stone letters, or monograms. Let's decode them !
Henri II et Charles IX
The west wing (pyramid side) is divided into two parts, separated by the Clock Tower. The left part of the clock tower, called Lescot Wing, is the oldest part of the Cour Carrée. François 1er wanted to replace the medieval Louvre with a palace worthy of his power. It was finally his son, Henry II, who completed the work, and whose name is now engraved in stone.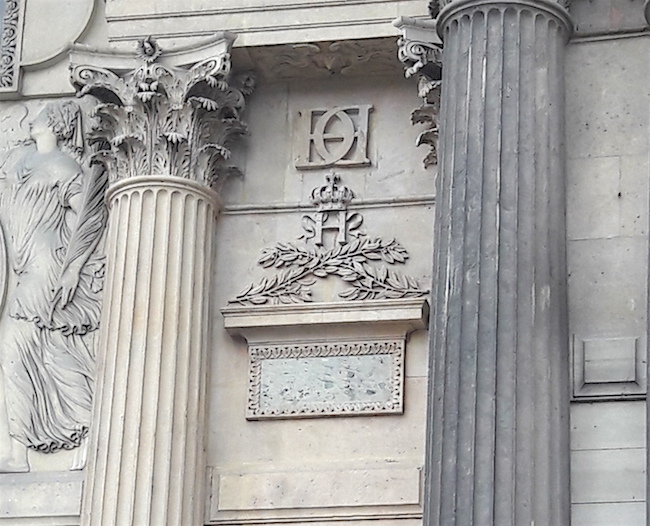 Above the crowned "H", we can see an "H" and "C" interlaced, symbol of Henry II and his wife Catherine de Medici.
Continue on the south wing (Seine side). You can see a crowned "K" or two "K". It is the emblem of Charles IX, second son of Henry II and Cathérine de Médicis, who continued the work of his father.
Louis XIII
Go back to to the Clock Tower (pyramid side). We owe this pavilion, as well as the wing on his right, to Louis XIII. How to recognize it? Thanks to the emblem of the royal couple that can be seen. An "L" and an "A" intertwined, for Louis XIII and Anne of Austria.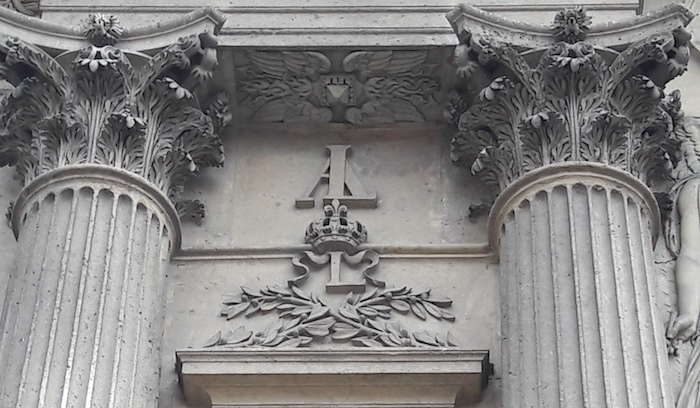 Louis XIV
Versailles made us forget it, but Louis XIV had great plans for Paris. He is, with Napoleon III, the greatest builder of the Louvre, and that's him who finished the Cour Carrée, before leaving to Versailles.
On all the other wings of the Cour Carrée, you can see an "L" and a "B". Soberly, Louis XIV is represented as Louis de Bourbon.
This "L" became in 1848 the logo of the Louvre Museum.